LINKS
..to other Rocky Horror related sites you should check out!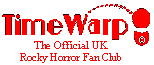 For ALL things Rocky related,
the only OFFICIALLY recognised British Fan Club,
for a very British Show


The OFFICIAL Rocky Horror Show web site,
endorsed 100% by Richard O'Brien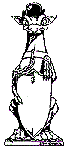 Transylvania
The British International Rocky Horror Conventions


The International Rocky Horror Picture Show Fan Club,
based in New York, USA

The Irish Rocky Horror Picture Show Performance Group,
based in Dublin, Eire.
"This is our sister group in the island of Ireland."


'Absolute Pleasure'
Petaluma, U.S.A.
Rocky Horror Picture Show Performance Cast
'Performance cast with a great web site..... check it out!'