To celebrate 150 years of railways in the Netherlands in 1989, European railway administrations were invited by Nederlandse Spoorwegen (NS) to display examples their latest trains at an Exhibition in Utrecht.
British Rail's original intention was for its new class 158 unit to be exhibited, but the manufacturer BREL had run into severe problems with production, and the first train had not yet been completed.
Fortunatley Metro-Cammell was ahead of programme on its class 156 build, and the final units were not due to enter service until October, so a newly built 156 was borrowed for the event.
156502, in orange and black Strathclyde Transport Livery, was delivered from Washwood Heath to Norwich Crown Point for commisioning on June.7 , before being sent to the Derby Railway Technical Centre in preparation for its trip to Holland.
The unit left Derby on June.15, and crossed the Channel the following day on the Dover - Dunkerque train ferry, before making its way through France, Belguim and Holland.
156502 was on display for the first 2 weeks of the 'Trains through Time' exhibition at Utrecht, from June.22, 1989
It was exhibited next to NS 'Wadloper' railcar 3104, which has the same drive-train equipment as the class 156 DMU.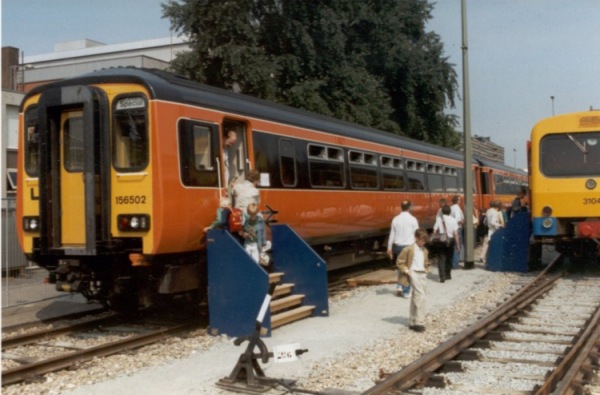 Photo: Dave Coxon
The Sprinter then returned to Britain, arriving at Dover on July 10, but due to industrial action it did not travel north to Glasgow (via Derby) until later in the month.
For more pictures of 156502 on its way to Holland, please visit Dave Coxon's website.