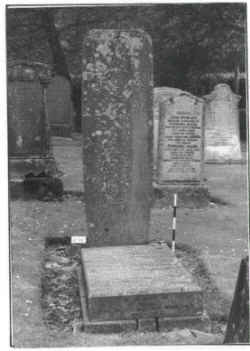 Alfred Warr

M.A.

Minister of Rosneath

1887-1916

Departed this life on the 17th June 1916

in the 57 year of his age

"Looking For The Resurrection

Of The Dead

And The Life Of The World To Come"

---

"Nothing is here for tears, nothing to wail

or knock the breast; No weakness, no contempt

dispraise or blame, nothing but well and fair"

also his elder son

Alfred Ernest Warr, B.D.

Minister of COldstream, 1920-23

of Hillhead, Glasgow, 1923-33

and of Dundee 1933-36

born 29th July 1889, died 13th Sep 1936

"He Is Not Dead, He Doth Not Sleep

He Hath Awakened From The Dream Of Life"
In memory of
Hilda
wife of the Rev. A.E. Warr B.D.
1885-1972
Christian Grey Laing wife of the Rev Alfred Warr
born 8th May 1862, died 27th February 1945
The Very Rev. Charles Laing Warr G.C.V.O. DD LLD 1892-1969
Dean of the Chapel Royal and Dean of the
Order of the Thistle 1926-1969 Chaplain to Kings George V
Edward VIII. George VI. &
Queen Elizabeth II. Minister of St Giles Cathedral Edinburgh,
1926-1962