Welcome to Mike's Chuffin Pages
(Last update 18th June 2006)
These pages contain photographs from meetings in the North East of England of members of the
Association of 16mm Narrow Gauge Modellers.
The association exists to promote the modelling of narrow gauge railways at a scale of 16mm to the foot.
The meetings are normally held once a month, on the first Sunday of the month, from around Easter to November with a few meetings during the winter months for the hardy souls.
I hope you enjoy the photographs (sorry for the lack of photographs in 2004)
Ingleby Village Hall - March 2003
Darlington Model Railway Club Exhibition 2003
Dixon Thomas's Meet - April 2005
Linton-on-Ouse Village Fete - June 2005
Richard Calvert & Eric Midgley - August 2005
Geoff Lumsden - April 2006 * New June 06
Clive Sheargold - June 2006 * New June 06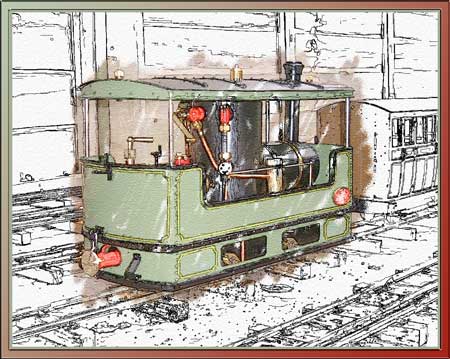 (Loco built by Peter Angus)
Please visit the association's website at : http://www.16mm.org.uk
All images © Mike Nellist 2001/2002/2003/2005/2006