Lord Ravensden's Marriage
by Anne Herries
This first book in the series sets the stage.
Olivia Roade Burton returns home to Abbot Giles in disgrace to her father and sister Beatrice after having jilted one of the most eligible men in Regency England. She has been cast out by her uncle and aunt, who had adopted her, but is warmly welcomed by Beatrice.
However, Lord Harry Ravensden soon follows her, believing he was at fault and must in all honour persuade Olivia to marry him for otherwise she is ruined. But then he meets Beatrice…
Meanwhile, the Steepwood villages are intrigued by the disappearance of the young Lady Sywell of Steepwood Abbey. As Harry, Beatrice and Olivia try to solve the mystery, their own story unfolds amid the mayhem created by Mr Roade: an inventor …but not a very good one!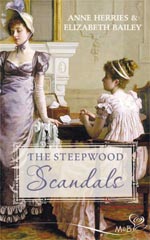 An Innocent Miss
Youth, innocence, beauty – debutante Serena Reeth has taken fashionable London by storm.
Believing his strong feelings for her to be returned, George, Viscount Wyndham is amazed, then angered at having his marriage proposal summarily turned down. Could it be true that Serena has transferred her affections? Or could the unfounded rumours surrounding his association with the notorious Marquis of Sywell have reached her ears?
Serena is loath to believe Wyndham to be a rakehell and libertine. Although, finding herself unable to deny her reaction to his impassioned kiss, she has to wonder if there is some truth behind his reputation . . .
Volume 1 will be published in the UK in November 2006