The Reluctant Bride
by Meg Alexander
Home for India is a quiet village neighbouring Steepwood Abbey, but this comfortable life will all be lost to her unless she - or her sister - consent to marry . . . Which of them will choose to be the reluctant bride?
After their father's tragic death, India Rushford and her sister discover that they have been left penniless and that their home is forfeit to the wealthy Anthony, Lord Isham in payment for gambling debts. But worse is to come: the hated Lord Isham wants one of the girls to be his wife, and India reluctantly agrees.
But is Isham the man she thinks he is? He cares for orphaned children, he worries about the plight of the workers. Against a background of growing Luddite unrest, India's feelings for her new husband begin to undergo a change . . .
"The Reluctant Bride" will be published in the UK in July 2001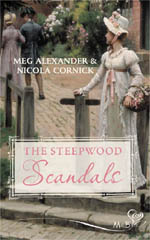 A Companion of Quality
The heir returns to the family estate near Steepwood Abbey, but will he choose a suitable bride?
Captain Lewis Brabant is not pleased to be leaving his life on the open seas to return to Hewly Manor. Still, his friends suggest he might be able to find consolation for his enforced rustication – if he takes a wife!
In residence at Hewly is a female cousin who also has plans to see Lewis married – to her! Yet it is not his beautiful, but scheming, cousin for whom Lewis feels a most inappropriate attraction. It is for her companion, the enigmatic Miss Caroline Whiston!
Volume 2 will be published in the UK in December 2006