A Most Improper Proposal
Miss Desiree Nash's prospects look very dim indeed.
A schoolmistress at Mrs. Guarding's Academy for Girls in Steep Abbot, Desiree is forced to look for a new post as quickly as possible when she is falsely accused of improper conduct with the father of one of her pupils. But with her reputation in tatters, she has little choice but to turn to the dashing Lord Buckworth, a handsome rake who offers to take her to London and set her up as his mistress. Desiree only accepts his outrageous proposal because she sees it as a way of getting to London where she hopes to secure more respectable employment.
Once in the city, however, matters take a very different turn. Desiree realises that her feelings for Sebastian are undergoing a significant change, as are his for her. But she is also forced to acknowledge that her past is never far behind her, and that all too often, impropriety and deceit go hand in hand.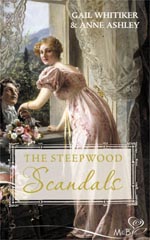 A Noble Man
by Anne Ashley
Spirited, bright and witty, Lady Sophia Cleeve is the talk of the Season. But let fortune-hunters beware . .
Sophia has a low opinion of the pampered, empty-headed men her father would have her take as husband. To discourage any more proposals, she puts out a rumour that she would rather marry a good and worthy man – outside of her privileged class!
When Benedict Risely, Duke of Sharnbrook, arrives home from Jamaica he is drawn to the wayward Sophia. On discovering her supposed predilection in men, he embarks on an act of deception. Divesting himself of his trappings of wealth, he takes a job in her family home – as Sophia's personal groom . .
Volume 3 will be published in the UK in January 2007