An Unconventional Duenna
by Paula Marshall
Two young women, up from Steepwood to London for the Season, immediately attract the attention of two highly eligible young men.
Tall, dark and confident, Athene Filmer seizes the opportunity to act as companion to her small, blonde and decidedly timid friend when she is launched into the ton. Illegitimate, with no dowry, Athene sees this as her one chance to make a rich marriage. But troubles arise when both young women consider Adrian, Lord Kinloch, to be the ideal husband.
It's more than obvious to Athene that his formidably brusque cousin, Nicholas Cameron, is disapproving of her - seeing her as an adventuress on the make - but since Nick has shown no signs of offering her marriage himself, she knows she should dismiss all thought of him! But Nick will not be ignored . . .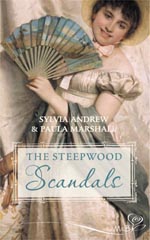 An Unreasonable Match
by Sylvia Andrew
Hester Perceval's debut into London society six years ago caused such a scandal that she had to come home to Steepwood in disgrace.
Now 23, she is something of a recluse, determined never to marry, and finding perfect fulfilment in a secret correspondence with an elderly academic.
In London she once again meets handsome, self-assured Lord Dungarron, one of the chief players in her downfall six years before. Unlike most ladies, Hester easily resists his charm - but then she has a shock.....
Volume 4 will be published in the UK in February 2007