The Guardian's Dilemma
The apparently tranquil surroundings of Steepwood offer the perfect hiding place for Oliver Brandon's ward – until a provocative schoolmistress stirs the scene.
In an effort to save his young stepsister from a fortune-hunter's grasp, Oliver Brandon places her in a genteel ladies' academy. His shock is considerable when he realises that one of the respectable schoolmistresses is a woman he last saw at a house party – in a highly compromising situation!
It's obvious to Helen de Coverdale that Oliver Brandon has serious misgivings about handing his ward into her charge. But will he listen if she tries to tell him her side of the story . . . ?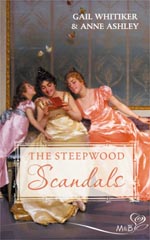 Lord Exmouth's Intentions
by Anne Ashley
Swept from Steepwood vicarage to London Society . . . Robina attracts the attention of a Lord.
Demure vicar's daughter, Robina Perceval, has relished her Season in Town – a definite change for the better after her somewhat straitened circumstances at home.
But what is she to make of Daniel, Lord Exmouth? A widower, with two daughters to raise, it would appear that he's in the market for a wife. Discovering that she has more spirit than she realised, Robina holds back from encouraging her potential suitor. How can she be sure he hasn't buried his heart with his beautiful wife?
Volume 6 will be published in the UK in April 2007