Mr Rushford's Honour
by Meg Alexander
Gina, Lady Whitelaw left Steepwood as plain Gina Westcott. Now, years later, she's returned home – and has to face the man who stole her heart …
But how things have changed! Then, Giles Rushford was the heir to an estate while she was a lowly nursemaid. Now, he's virtually penniless – after his father lost the family fortune in a wager – while Gina is a wealthy, titled widow!
She knows Giles is too honourable a man to risk being seen as a fortune-hunter – so how will she ever win him as her husband. . .?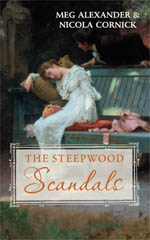 An Unlikely Suitor
The Steepwood Abbey villages are aflutter about a scandalous romance...between a lady from Hewly Manor and a suitor beneath her station...
At three and twenty and a bluestocking to boot, Miss Lavender Brabant feels her chances of marriage have passed. But it isn't that she has never met a man to make her pulse race. She has! Only Lavender is an admiral's daughter...and Barnabas Hammond is a shopkeeper's son!
Barnabas has the looks and confidence to see him right in any circle of society. And to Lavender's amazement he is both well-read and a superlative swordsman! But how did Barnabas gain these attributes? Could it be that Lavender's unlikely suitor is more suitable that he at first appears?
Volume 7 will be published in the UK in May 2007