An Inescapable Match
by Sylvia Andrew
A poor relation, abandoned on the road, close to Steepwood Abbey.
When Deborah Staunton finds herself destitute, through no fault of her own, she is thrown on the Perceval family's mercy. Help presents itself in the highly eligible shape of Hugo Perceval. But surely he will never consider her as a possible wife?
Hugo wants a well-ordered life with a calm, gentle lady, not with an accident-prone miss who spreads disaster in her wake. Yet, as the lively Deborah infiltrates his world, he begins to wonder whether she isn't exactly what he needs…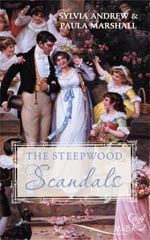 The Missing Marchioness
by Paula Marshall
Since the murder of the Marquis of Sywell shook the quiet vicinity of Steepwood Abbey, Madame Felice has been careful to conceal her true identity.
Now, she senses danger and exposure ahead because, for the first time in her life, she feels the lure of a man's attraction. But which is she more terrified of losing – her mask or her heart?
Driven by desire to make this elegant modiste his mistress, Marcus, Lord Angmering, sets out to discover the truth. As he gradually peels away the layers of her disguise, Marcus unveils the terrible secret that she has been so desperate to hide…
Volume 8 will be published in the UK in June 2007