Sweden January 2011
ICE Fishing!!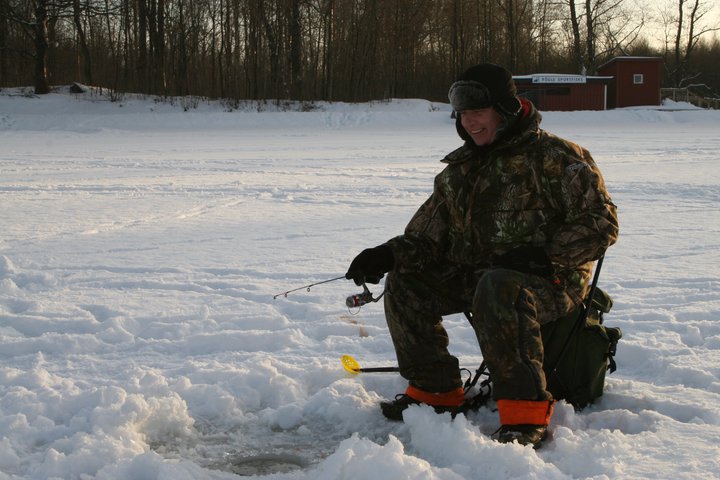 Ok maybe not carp fishing, but fishing all the same!!
If you have read other parts of this site you will know my son Darrell lives and and works in Sweden with his Swedish wife and three young children, we (the Mrs and I) try to get over there before Christmas to spend a week or so with them every year. Due to the bad weather in the UK we couldn't get there, so we had to postpone our trip till after Christmas and go from Spain to Sweden in the new year. The flight was booked for 6th Jan, Barcelona to Copenhagen, then a short train journey across the bridge from Copenhagen, Denmark to Malmo, Sweden and we arrived at Darrell's place at about 7pm ready for something to eat and a good rest.
Darrell had arranged some Ice fishing for the following day (he likes to get his priorities right) so it was up early, load the car, stop off at McD's for a egg and whatever it is Mcmuffin, then round to pick up Darrell's mate Dan "the Hammer", don't ask!! We arrived at the lake at about 9.30am a couple of anglers were already fishing. Now if you are like me and don't know too much about this ice fishing I will tell you a bit about it now. You pick you spot on the Ice and drill a hole through it using a great big auger type drill, the rods are about 12" to 18" long, a small fixed spool reel with a spoon type lure on the line about 6" above a baited hook. The bait we were to use was prawns, the hammer had some maggots too, but to be honest all types of bait are used. You drop your line down your ice hole and jig the bait just off the bottom, bites are felt on the line or rod tip.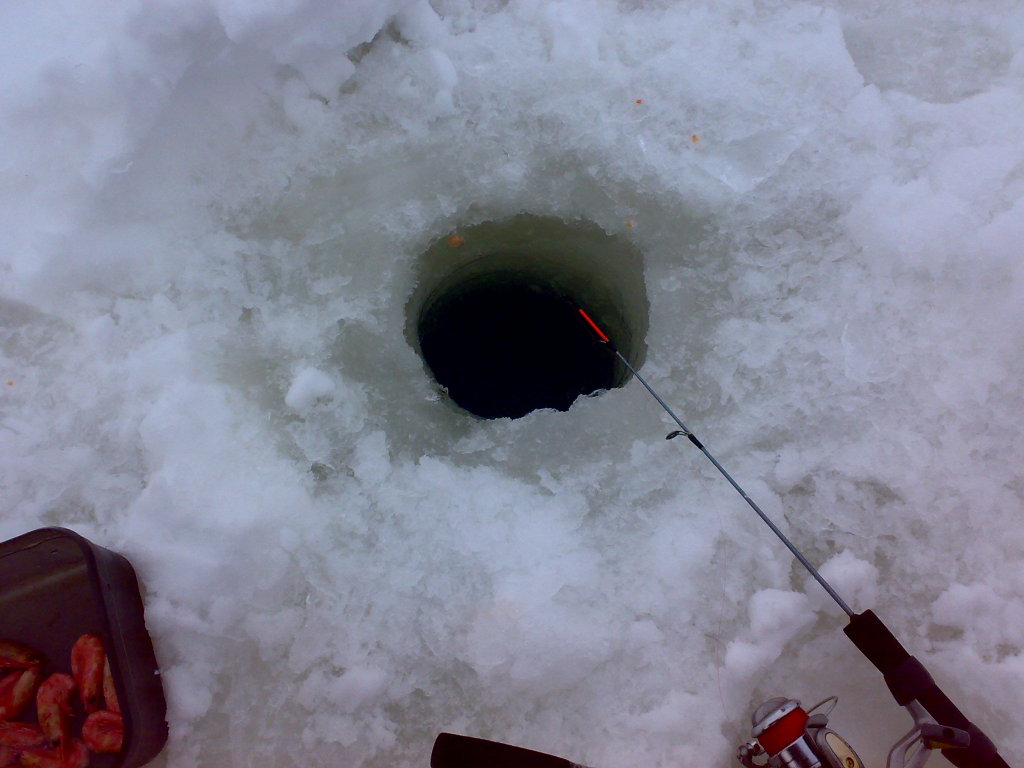 Darrell drilled three holes one for me, one for the hammer and one for himself, within 15 minutes Darrell is into a nice Rainbow trout of about 1.5kg-2kg and he is fishing the third hole drilled, I would have thought the drilling would have spooked the trout a bit, then Darrell says he is dropping a few small bits of prawn into the hole!! He must of forgot to tell me about that one!
Darrell had a chat with one of the guys that work at the lake, a real nice bloke called Nils, he was fishing not too far from us for the pike, again through the ice, but with slightly longer more powerful rods, using deadbaits just off the bottom, the trout are bad enough to get through the hole, how the hell they get double figure pike through these ice holes I don't know, (Nils blanked on the pike) but I would have liked to have seen it.
Although it was cold, fishing on the ice covered snow out in the middle of a frozen lake, it wasn't that bad, as long as you were wrapped up it was just your feet that got a bit cold. Even the sun managed to come out during the day which made it even nicer. Nils even bought us all out a nice fat hot dog with ketchup and mustard whilst we were fishing, and very nice they were.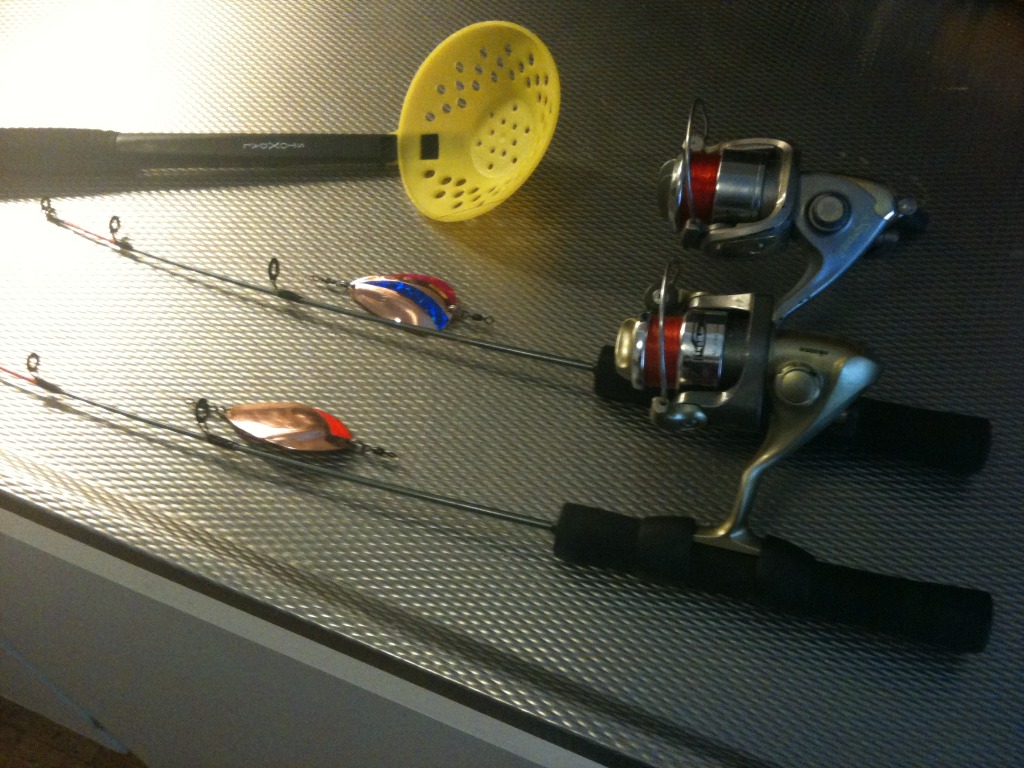 The Hammer had bought some hot dogs with us to cook on a throw away barbeque along with ketchup and mustard, so we were able to offer a hot dog back to Nils later in the day, these hot dogs must be a real Swedish thing while out fishing on the ice, I'm not complaining though, I managed just the four LOL.
The fishing started to get a bit slow, I was being pestered by perch and still hadn't landed a trout, I had taken the rod off Darrell when he hooked into his second fish but managed to lose it and get hooked onto the ice just beneath the surface of my hole. A move was agreed on, as Darrell is such an expert in drilling we let him drill another three holes after a short walk to another location, this was a few yards away from a stream entrance into the lake, we had a good feeling about this location. The Hammer was into the first fish, a nice trout of about the same size as the others, I had the next and the one after, Darrell had another one and Nils had joined us after the trout too. All our fish were taken on the prawns, we had tried the maggots and I had tried a cocktail, it seemed the best catcher was straight prawn, so that's what we kept too. The three of us caught our quota of hard fighting Rainbows, we caught a couple extra and released them without really taking them completely out of the water, but what a day. Although I had never tried ice fishing before I really enjoyed our day on the ice, good company, good fishing, good food, and look forward to another trip, we was trying to go another day during our stay but couldn't really find the time, but next time in Sweden I will be on the ice after those hard fighting, cold water trout, once again.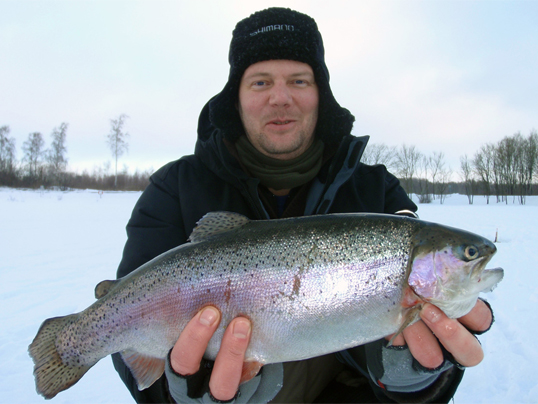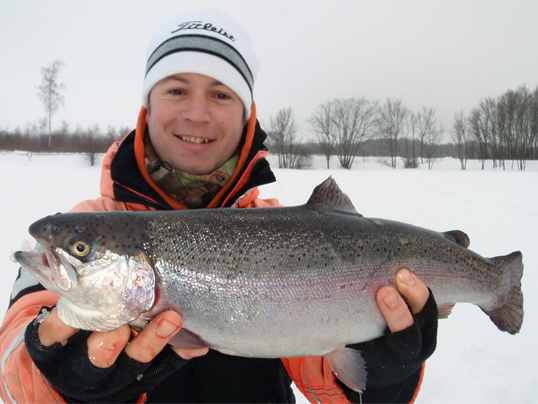 The Hammer Darrell