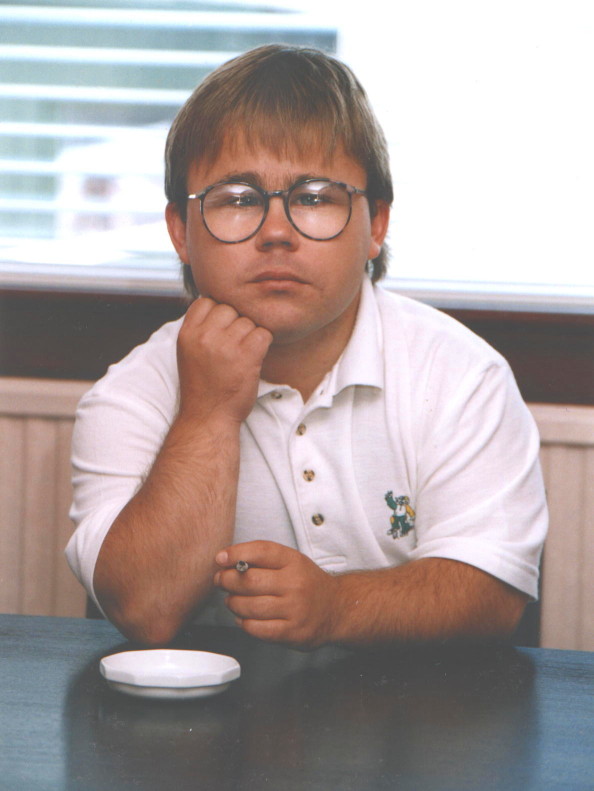 In her 1998 autobiography Elaine's World, published two years after Eric Cullen's death, his former co-star Elaine C Smith wrote that: "People still pass comment on 'wee Burney' and ask me for answers about what happened. I have none."
Since I have, I decided to write them down and stick them on the Web - if only to explain to distressed Nesbitt

fans how and why an outstandingly good and gentle man ended up in the most terrifying prison in Scotland for having once "done a moony" on someone else's orders.

It wasn't only that Eric wasn't the seedy creature imagined by some of the tabloids. He was a quite remarkable young man; shiningly good and likeable.

Eric Cullen was widely portrayed by the tabloid press as a "child porn pervert". It cannot be stressed too loudly or too often that Eric was not, and was not convicted of being, and was not charged with being a user of child pornography.

Even the prosecution accepted that the only reason Eric had had child pornography in his house was because he had been too terrified to go to the police when dangerous criminals ordered him to store it for them. In effect, he was prosecuted for having broken under torture - for having done as he was told because he knew from bitter experience that he'd be beaten and raped if he didn't. It seems that as a society we can understand and sympathize when some big tough SAS man who's been trained to deal with torture breaks and acts against his own nature to escape further pain: but not when it's a gentle, genteel little man who happens to be on the telly.

As for the other charges against Eric, the evidence strongly suggested that he was innocent. In any case these offences were as minor as it was possible to be and still be chargeable - things most people would see as normal male horseplay rather than perversion.

Yet at the same time that they were prosecuting Eric for having once done a moony when he was a student, the police and Crown Prosecution Service were refusing to listen to his evidence about the men who raped and tortured him for fifteen years. By appealing to the Lord Advocate Eric did eventually force them to act against his uncle, who was convicted after Eric's death. Of the three men Eric named as his principal abusers, two have now been jailed for multiple rape of young boys, so it is clear Eric was telling the truth about this gang: but seven years after Eric named him to the police, the man he described as the ringleader and worst of his abusers has still not even been investigated - even though he has a known history of sexual offences against children.

Details of this bizarre situation can be found on the page titled Quis Custodiet Custodes? If, after reading it, you feel seriously concerned by Strathclyde Police' continuing failure to act on credible evidence about a sadistic paedophile, and their decision to leave him free to continue raping his way around Greater Glasgow, you could always write to

Complaints and Discipline Branch
Strathclyde Police Force Headquarters
173 Pitt Street
Glasgow G2 4DT
[although they have a website they don't seem to have an e-dress]

and ask them what if anything they intend to do about it.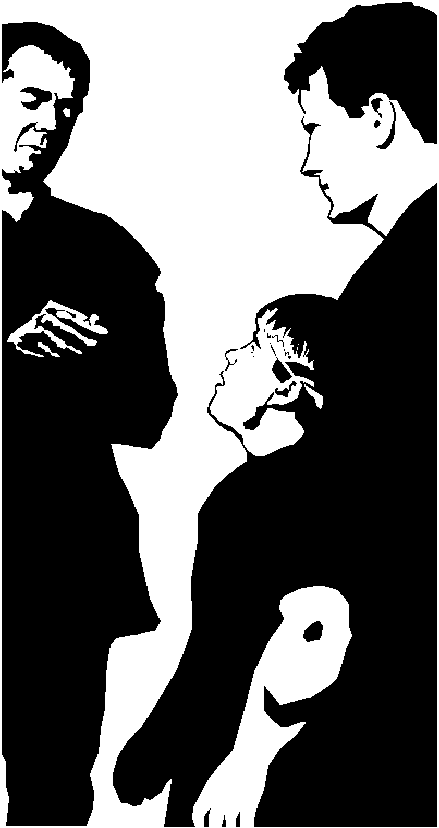 In his brief life Eric Cullen suffered unimaginable cruelty, first at the hands of violent and sadistic child abusers and then as a victim of the British tabloid press. If he had ended up as a heroin addict sleeping rough in the street, as many victims of such devastating abuse do, he would have received more sympathy - but because of his refusal to let his abusers control his life, his stubborn determination to be something more than just a victim, he was judged by the press as if he wasn't a victim at all - as if he had chosen the things his abusers forced him to do.
The height of a young child, with poor sight and a weak heart, riddled with internal adhesions and with an exceptionally mild, non-violent nature, his abusers saw him as an ideal victim - and while he was in their hands he was helpless and utterly vulnerable. But he was also fiercely intelligent and articulate, and once he was no longer directly in their power he proved to be an opponent more stubborn and brave than they could ever have imagined.
It would be a mistake to see Eric's life as unrelieved tragedy. Rather, it was a life of extraordinary extremes of good and bad. Though Eric suffered profoundly, he was also profoundly loved by a great many people, and had a tremendous talent for friendship. He crammed a long lifetime's worth of achievements into the little time allowed to him: and though much of his life was spent in dreadful psychological pain he still had a buoyant capacity for enjoyment of whatever good things came his way, and faced the world with courage and humour.
Claire M Jordan

As regards the structure of the website itself, most of the sections are intended to be self-explanatory. This means that each of the major sections includes a run-down on the main points of the story, so that anyone who wants to can copy/quote a given section without having to rummage through the other pages in order to understand the background.
This inevitably leads to some duplication: my apologies to anyone who attempts to read the whole thing at one sitting and finds themselves repeatedly approaching the same events from different angles.
The little

masks in the body of the text are hotlinks to background information (except this one!). Most larger-scale images are hotlinked to accompanying notes: click on an image to view its provenance and copyright.
At present it is not possible to use actual photo's of Eric as Wee Burney: the BBC does not currently grant permission for any of its images to be used on the Web, pending the outcome of discussions with the actors' union Equity. But it is permissible to turn these images into drawings - and personally I think the effect is rather good.
The roses & thorns decoration is an extension of the theme of the masks of Comedy & Tragedy. It is also a reference to a poem

from the Spanish Civil War, in which "little yellow roses" signify a young man's death - and to the yellow roses which I took to Eric's funeral for that very reason.

The site looks best with the following Control Panel Display Settings: Desktop area = 1024 x 768 pixels or higher; Font size = Large Fonts. Other settings may cause the line of masks to run out before or after the text, owing to the masks being too big in relation to the text or vice versa.

In preparing this site I am in effect writing a biography, except that it's the biography of someone I knew and loved. When I write about Eric's personality and attitudes, and about the appalling behavior of the tabloid press, most of it comes from my direct personal experience. When I write about the court-case etc. much of it is based on research done after Eric's death.

An excellent major article about Eric (headed "Sold short"!) appeared in The Mail on Sunday's Night & Day section on 24th November 1996: back-issues of the whole paper for that day are available - for £22.95! - from the "Remember When" newspaper archive.

Comments, enquiries etc. if any to

whitehound@madasafish.com