Brownhills
Books on Brownhills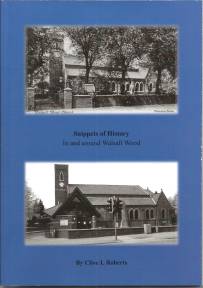 SNIPPETS OF HISTORY - In and around Walsall Wood by Clive L Roberts
Published October 2014 - Paperback 82 pages - Price £8.00
----- Clive says via http://brownhillsbob.com/2014/10/19/wood-n-heart-a-new-book-out-now/
"Some of the subjects I have covered in the book include how Freizland Lane got its name, the lost Walsall Wood Institute, some local football teams, a few post cards of Walsall Wood, Walsall Wood folk up before the bench, the history of the Wheel Inn pub, plus lots more.
The book can be purchased from:
Egans shop, High Street, Brownhills
Walsall Wood Library
Corner Shop, Friezland Lane, Shire Oak.
There are some books at Walsall Local History Centre as well."
CLAYHANGER KID TWO - The Teenage Years
by Brian Stringer
Published April 2013

Price £6.00

Paperback 164 pages

April 2013 - Limited stock available at :-
Downes Newsagents, Brownhills
Chasewater Railway Shop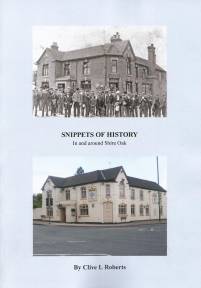 SNIPPETS OF HISTORY - In and around Shire Oak by Clive L Roberts
Published April 2013
October 2014 - now out of stock - :-
Walsall Local History Centre Facebook page (on 17 April 2013) stated ----
"Packed full of fascinating quotes and snippets of history transcribed from old newspapers and other sources this should really interest anyone from the Shire Oak or wider Brownhills area.
The book is 72pp paperback, ilustrated with photos and newscuttings."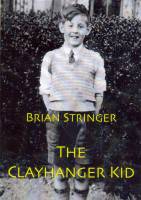 THE CLAYHANGER KID by Brian Stringer
Published December 2010
'THE CLAYHANGER KID relives the life of a boy bought up in the small mining village of Clayhanger, situated a mile from the town of Brownhills, which was then in Staffordshire. Born before the outbreak of the Second World War, he grew up in a strict but happy household, surrounded by friends and family, and a host of odd characters.
It is a delightful look back at the 40s and early 50s and chances are if you lived in the area, went to school in Brownhills, or worked at Walsall Wood Colliery you will know someone in this book, and may even be in it yourself. Some of the tales are hilarious, and will make you laugh out loud, while others will make you wish for the return of those years, and others definitely not.
Black Country author Carol Hathorne who has published many books, says of the Clayhanger Kid - "I found the book immensely readable, the author has a real gift with words, a warm personality and great sense of humour that shines through."
While a former village lad, writes" From page one I was taken on a delightful journey back to my childhood, by the brilliant and authentic anecdotes of the "kid", his relations, friends, and village folk.'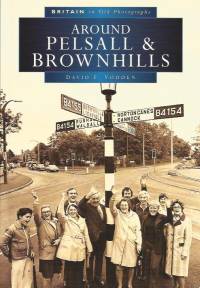 Around Pelsall & Brownhills by David F. Vodden, (BRITAIN in Old Photographs series), Sutton Publishing, 1998 - ISBN 0-7509-1898-5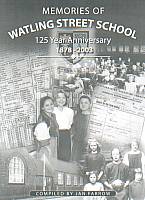 Memories of Watling Street School (125 Year Anniversary 1878-2003) compiled by Jan Farrow.
Photographs and stories of the Junior Mixed & Infants School.
Published in 2003
Memories of Brownhills Past by Clarice Mayo & Geoff Harrington.
More rare photographs of the Brownhills area with illuminating descriptions of the views shown.
Published in 2003
Memories of Old Brownhills by Clarice Mayo & Geoff Harrington.
Rare photographs of the Brownhills area with illuminating descriptions of the views shown.
Published in 2001
Street Names of Brownhills, Clayhanger, Shelfield & Walsall Wood by Betty Fox, Walsall Local History Centre, 1999 - ISBN 0 946652 51 1
Street names, how the names came about, their history and notable buildings. Maps and photographs old and new add to the usefulness of the book.
BROWNHILLS A Walk Into History With Gerald Reece by Gerald Reece, Walsall Local History Centre, 1996 - ISBN 0 946652 42 2
116 pages of solid information on Brownhills from the earliest times to the present day. Well supplied with maps, photos and drawings.
Brownhills and Walsall Wood - on old picture postcards by Jan Farrow, Reflections of a Bygone Age, Keyworth, Nottingham 1992 - ISBN - 0 946245 60 6
Brownhills Local History Trail by Joyce Hammond, Walsall Library & Museum Services - ISBN 0 946652 02 3
Describing a walk through Brownhills with a background of ancient and modern history.
V1.7 - 29 October 2014 ---- recommended resolution (1366 x 768)
© David Hodgkinson 2000-2014. All rights reserved.