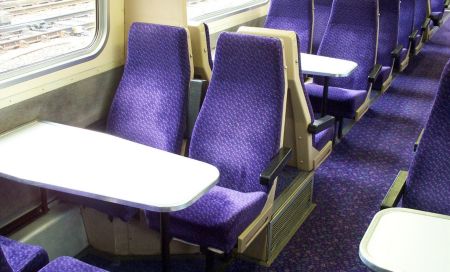 A heating and ventilation unit is mounted under the centre of the carriage, and from here the air is blown through floor level ducts along the sides of the saloon.
The grille by the aisle is an intake for recirculating air.
The engine coolant header tank is also located between a pair of seat backs near the centre of the coach.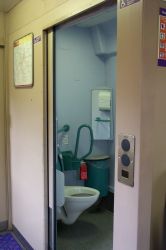 The toilet compartment in the DMS(A), is located at the driving end and has special features for disabled persons, although not compliant with the 1998 Rail Vehicle Accessibility Regulations.
It has an air-powered sliding door, hand rails and low level emergency alarms (often mistaken for the flush!).
Porterbrook owned 156s have had restyled toilets fitted at refurbishment.
Compared to the locomotive hauled coaching stock they replaced, provision of space for luggage was rather limited. In 1989 Norwich depot undertook some modifications to unit 156.419 to improve matters. Seats 1 and 2 in the DMS(A) vehicle were replaced by a luggage stack, and a secure parcels shelf was fitted in the van area of the DMS(B). Soon afterwards all the Norwich units were modified in this way.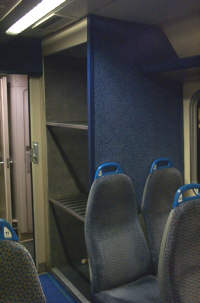 On the right is a full height luggage rack fitted in place of seats 1 and 2 in the DMS(A) car.
On the left is a secure parcels shelf fitted on one side of the van area in the DMS(B) car.
The units originally based at Norwich Crown Point depot, are now shared between One, Central Trains and Northern.
During the early 1990's most of the ScotRail fleet was fitted with extra luggage space.
These full height luggage stacks replace seats 1, 2, 3 and 4, which behind the door pockets, had no arm rests and the poorest view from the train.
A further modification to some of the units that worked on the West Highland line was the replacement of seats 53 and 54 in the toilet fitted vehicle with these extra luggage stacks.
The following ScotRail units have this feature:
156.436,445,447,449,453,465,
156.485,492,495,496,500
The 18 units of the former North Western fleet also had similar racks fitted during refurbishment. 156.420,421,423,424,425,426,427,428,429,
156.440,441,452,455,459,460,461,464,466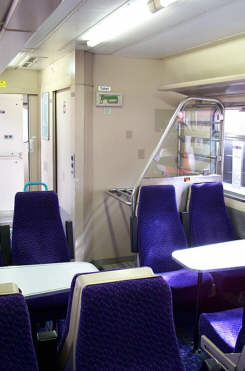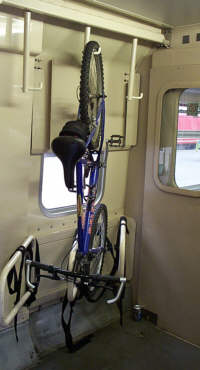 During 1998 ScotRail increased the bicycle carrying capacity of it's units to six by fitting cycle racks in the luggage van. This meant removal of the secure parcels shelves that had previously been fitted to some of the units.
One side of the van features fold down shelves, for when the cycle racks aren't needed.
Strathclyde PTE paid for the remainder of the Corkerhill based units to be fitted in 2001.