Modern Aero Baitrunners
The next reels from Shimano were better still than the sea spins, we now had long tapered spools, better line lay, rear drag and they were much lighter. The models available were Aero 3000, 3500, 4000, 4500, the 3000 and 3500 were same size reel with different spools and the 4000 and 4500 were bigger than the 3 series but again had different spools. These really were the business and are still basically the same as current models 6010 and 8010.
The addition of twin handles and Dyna balance, although improving the performance of the Baitrunner reel has not changed the concept of this highly efficient reel .
For distances up to 100yds with line below 14lb BS they still cannot be beaten, they cast smoothly, the line lay is perfect and the clutch gives line when needed, the baitrunner facility always works and disengages at the turn of the handle.

The Big Pits
Although not one of the biggest reels on the market I have a set of Shimano Power Aero GT 6000, these reels, at the time, were only available from The Tackle Box in Kent. I had started to fish some of the larger waters in Kent and needed some reels to hold lots of heavier line, I also needed a reel to fish in France with, these I thought, would fit the bill.
I purchased them complete with all the "add ons" handle conversion and baitrunner on the spool conversion.
Although I can't really complain about the performance of these reels, I'm not that keen on using them.
They cast well and hold plenty of line, but the clutch is not that good and the baitrunner conversion is far from ideal, they are very bulky and do seem a bit heavy. When long casting with heavy line I use them, but when I can I prefer to use the baitrunners any time.
Maybe it's about time I purchased three of the new Big Pit Baitrunners, but I'll see if the price comes down a bit first and see if I can borrow one for a session to see how it performs.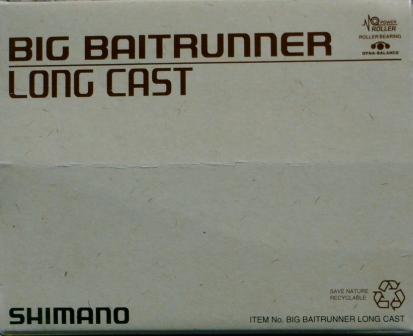 Shimano Big Pit Long Cast

2003 was the year when I finally updated my reels to the big baitrunners from Shimano. These reels are very smooth with an extremely good line lay they can cast very long distances, as long as your technique and ability are right. Obviously to hurl big leads far distances your rods must be of a suitable test curve and taper also, big reels do not automatically equal a long cast.
I tend to use these reels loaded with braided mainline for carp where lots of line needs to be used, I also use them whilst catfishing on the river Ebro, they are great for this type of heavy fishing. 300+yds of braid is just swallowed up onto these spools, you get the benefit of big spools along with a super smooth clutch and the perfect baitrunner facility.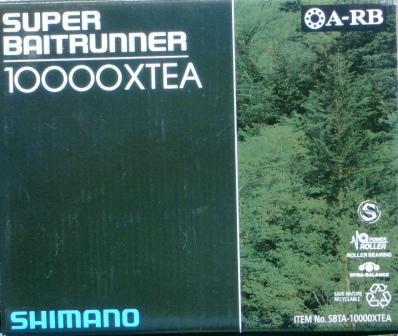 Shimano 10000XTEA
2007 Just before Christmas, this was to be my Christmas present, three new reels for medium range fishing. When I first opened the box to inspect the reels in a tackle shop here in Spain the first thing I noticed was the superb quality of these reels. Two alloy spools come with the reels, one has a golden finish wile the other is silver. The handle is the same as on the 8010's I use, with the weight and feel very similar, the big difference I found was how smooth these reels felt, maybe it was the newness but they felt really tight and well engineered. The money was handed over and I became the owner of three new reels, I won't tell how much they cost me here in Spain just to say a lot cheaper than I could have got them in the UK!!
I opted for the silver spool to load up with line as it matched the stainless finishings on the rods they were to be used on (doesn't catch more fish I know). 12lb Daiwa Sensor is the line I use for most of my normal fishing as I find it cast's well and is a good all round supple line. The baitrunner and clutch are both infinitely adjustable and very smooth when giving line, which I was soon to find out as within the first hour I had a screaming take that resulted in a fin perfect 14lb Ebro common.
So far so good, might try them out in France 2008 see how they perform then?