2008
The Year of The Fifty?
Negreloube 3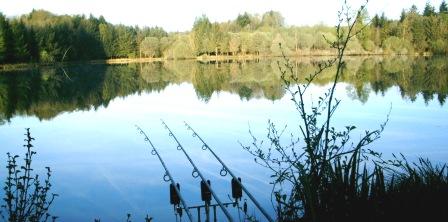 After many a phone call to the regular crew from here in Spain we had to decide on the venue for our 2008 trip to France, the date was decided week commencing 26th April, this fitted in with Darrell teaching in Sweden and my work here in Spain, Perry and Steve booked the required week from work it was just the where?
Various venues were checked on the internet some new venues and some that were well established, but no decision could be made. George at Negreloube had always said to us on previous visits that by 2008 some of his carp should be over fifty pounds with the possibility of even a sixty pound carp. Although we had been to Negreloube twice before on both occasions we had received a very warm welcome, caught some great carp and been fed very well. That was it then, Étang Negreloube for a third visit it was!!!!
Kevin at mainline had been speaking to Perry regarding the new bait that was available (the Cell) this was to be the bait we were to use this year, we all had some Pulse left so we didn't need as much boillies as we usually order, 20k between the four of us should be enough. Pellet etc. consisted of 25kg of 6mm trout pellet, 25kg of 8mm 40kg of crushed hemp, 25kg of GLM pellet, 25kg of pigeon feed and 10kg of maize. Darrell was to bring his procat baitboat as hand luggage from Sweden with Perry and Steve both buying Viper Icon's that was three baitboats between the four of us.
A few days prior to the start of our trip I received a phone call from someone called Jan, she informed me that George and Debbie at Negreloube were not going to be there as they had to return to the UK for personal reasons, that's a shame I thought, as this was one of the reasons for returning to this venue as they have always treated us well. Jan said that she and her husband were looking after the lake while they were away and everything would be as usual. I thanked Jan for her call and told the boys the news, still we were going soon so no need to worry.
As usual Perry and Steve were catching the midnight ferry from Dover, Friday night and Darrell flying into Stanstead, then flying to Limoges, Saturday morning. I was driving up from Spain with the aid of my mate Glenn's sat nav, starting out at 5.30am. I arrived at Limoges airport at 1.00pm just a few minutes before Darrell landed. We arrived at the lake at 2.15pm; Steve and Perry had already arrived an hour or so before and therefore had walked the banks having a chat with two Dutch anglers that had also booked the lake. We were a bit put out that they had already decided to set up in a swim before we had arrived, but later in the week we found out that they had been told they could have this swim when they booked? Still it wasn't a problem for us and we got on very well together, having a good laugh at meal times etc.
We decided to have our normal draw for swims with this year Steve taking number 1 with Darrell number 2 me 3 and Perry last. Steve chose swim 3 which covers the dam wall one side of the island and the dam entrance to behind the island, Darrell chose swim 4&5 which covers a lot of water and the far bay. I chose swim 1&2 deciding on the left side, number 2 with Perry coming in to my right, swim 1. Theo and Edd (the Dutch lads) were in 8&9. We soon carried the mountain of gear from the cars to the swims and mixed the pellet and divided the boillies into four bags. Although we did manage to cast the rods out the real fishing didn't start to after our evening meal of spaghetti bolognaise.
The fishing started with a bit of a bang with me getting a run at 3.40am the Sunday morning this was the left hand rod that was being fished in the channel between the island, dropped by the baitboat, there would be no way of fishing this area without a boat or baitboat, there are just too many over hanging trees in this area for casting, no real snags, except one fallen tree in the water, so it is safe to hook the fish there just impossible to cast. After playing the fish with the rod horizontal to the water and the tip just above the surface the fish started to swim away from the channel out into the main part of the lake just as planned and after a few minutes Perry slipped the net under a nice mirror which after deducting the weigh sling weighed in at 34lb 4oz, a great start!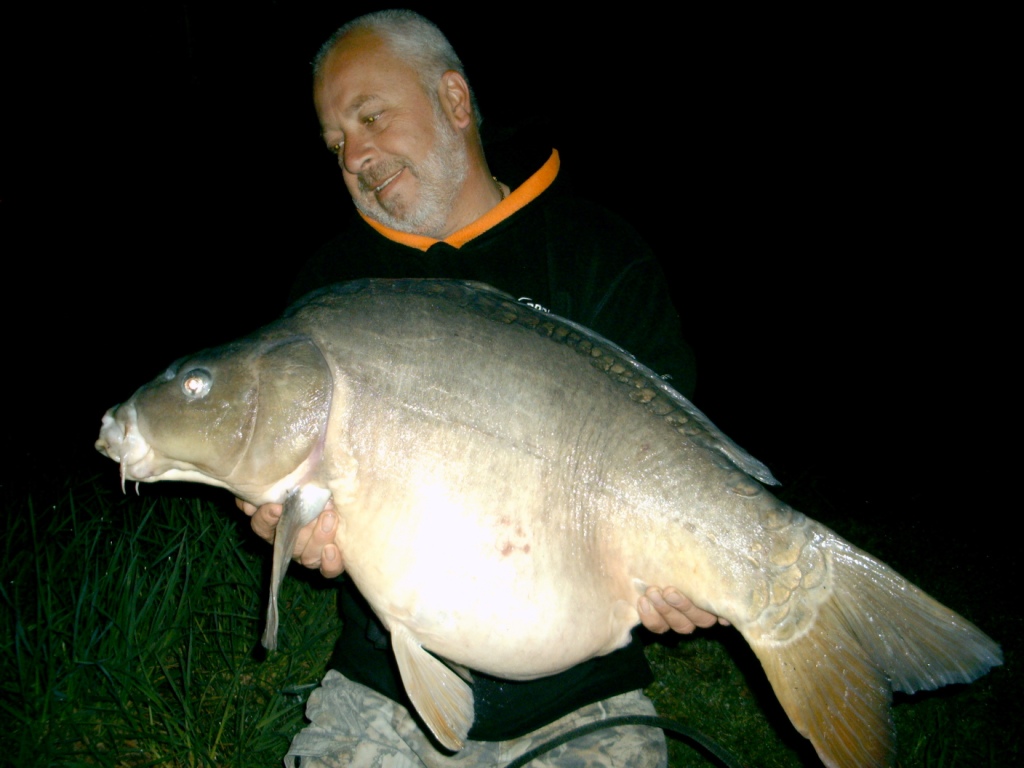 34lb 4 oz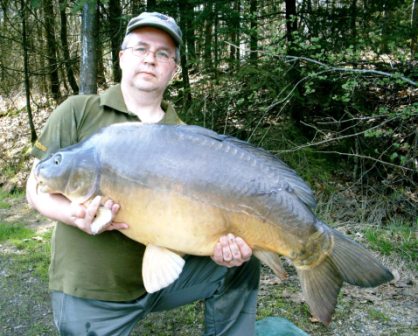 Steve with his 41lb mirror
Steve was the next to see action from his side of the channel in swim 3 we did have to wait till 2.00pm but what a fish, weighing in at 41lb another nice mirror. Nothing else before our evening meal but after a shower and meal we were ready for the night ahead.
I was into the first fish, the time being about 8.30pm, this one came from the front of the island, my middle rod. This felt a very big fish and was just plodding out to the lake from the island with me bent well into the fish, it was one of those fights when you know you are attached to a 'lump' which is exactly how I described it to Perry. Although it gave a few heart stopping moments when you feel the line pinging on it's fins or you get the sudden turn of direction, I felt in control all the way to the net which Perry was holding waiting for me to guide the fish up to the spreader block. When in the net we looked into the water and the fish looked immense, is it a 50 I said, Perry's answer 'don't know son but it is a lump'. On the scales with the weigh sling deducted it was a new PB for me at 49lb8oz and a new best for our group beating Perry's 46lb12oz from two years previous. I recast the rod and made a nice cup of tea, it seemed an age for Perry to finish his tea, his cup just didn't seem to empty, even though he was drinking loads!!
A new PB for me at 49lb8oz
After settling down again and still thinking about how near I had been to 50lb the left hand rod sprang into life with the delkim giving its distinctive warble. This again was in the channel so the rod had to be held very low and just an inch of line gained when possible, the same thing happened as with the first fish and it started to swim out into the main lake. Perry was at my side waiting with the net as usual, after a few minutes I drew the fish over the net and the hook slipped out!! Perry lifted the net with the fish diving to the bottom of the net, yes it was in the bag! Here it was Sunday night and I had had another fish this one a mirror at 33lb8oz. Two nice 30's and a near 50 can't be bad.
Into the sleeping bag for some kip, but not for long, just after 1.30am the middle rod is away again, another 'lump' after the pics and weighing which confirm this mirror at 43lb8oz you could have knocked me over with a feather!! Perry hadn't had a touch nor Darrell, Steve was still on the one fish.
No more action that night so the sleep was more than welcome followed by a nice cooked breakfast, shower and bit of a chat with our Dutch friends who had also had very little action. The weather had now worsened with rain wind and the temperature starting to drop. Just after 2.00pm and the left hand rod just jerks and before a real run develops I strike into another powerful carp from the channel, this does all the same antics with me providing a repeat performance with the same result, another big mirror in the net, this one goes 30lb12oz . Nice, very nice!
2.35pm the middle rod from the front of the island screams off, I strike and feel a solid resistance, out into the main part of the lake and this fish feels special, the fight again was well controlled and everything went to plan with the fish laying in the bottom of the net, I recognize this 'lump' as the 'Cyst' last time caught at about 52lb. I shout 'yes' I am sure I have broken the magical 50, I had been winding the boys up for weeks saying, '2008 the year of the 50' and here it was a known 50 laying in the bottom of the net.
On the scales with the sling deducted all was not as hoped, it was under 50!!
49lb12oz to be exact, a colossal specimen a new personal best and I was disappointed! How stupid can you get? Never again will I get caught out like that, all the carp I have caught have been admired and appreciated for what they are irrespective of size. Does it really matter if a fish weighs 4oz less than expected? Not in my book it does!
So, the 'Cyst' at 49lb12oz this made it six fish, 3x40's and 3x30's unbelievable!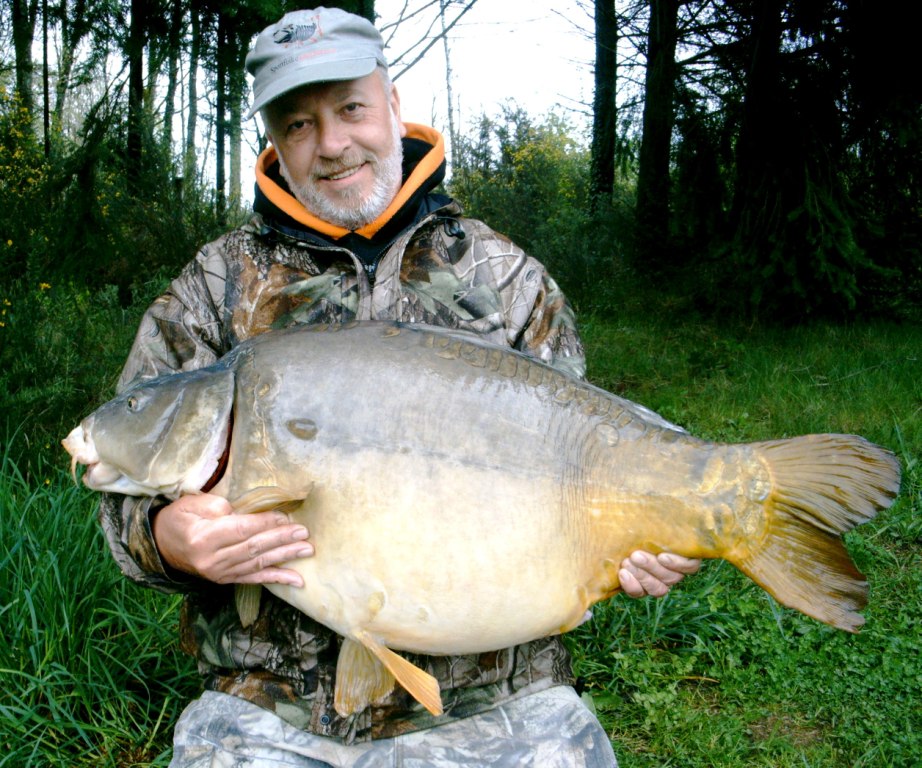 Another new PB 49lb12oz 'The Cyst"
3.00pm and Darrell gets a screaming run on his left hand rod on the far side of the bay fishing from swim 5, after a good scrap he slips the net under a cracking looking mirror of 25lb, while this is going on Steve has had another take from his side of the channel which results in another '40' this time at 42lb, Steve is well happy two fish both 40's. Next to catch was Darrell this time a 21lb common taken after our evening meal at 9pm. Nothing else for the Monday night/Tuesday morning except one fish that happened to come across Darrell's bait at 3.00am, which had been tucked nicely away under the trees on the far bank of the bay from swim 5. Darrell had called Steve but due to the bad weather Steve hadn't heard him, Darrell played and landed his fish, on his own, without a torch, in some really fowl weather and finally got Steve to help with the photos and weighing. The big mirror settled the scales at exactly 47lb after the deduction for the sling a new PB for Darrell.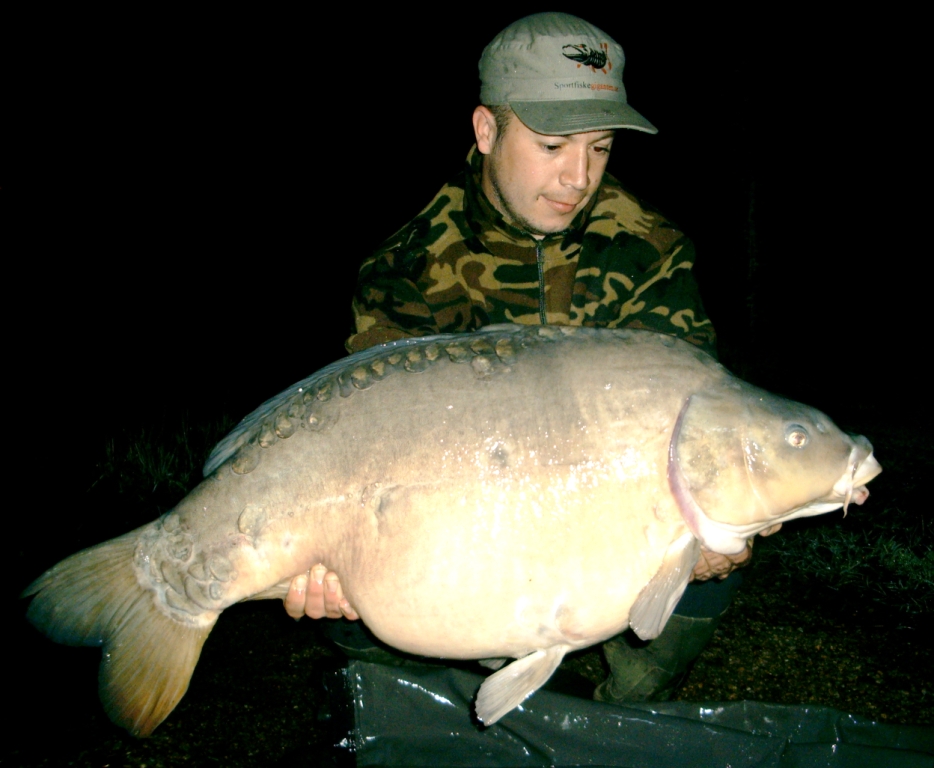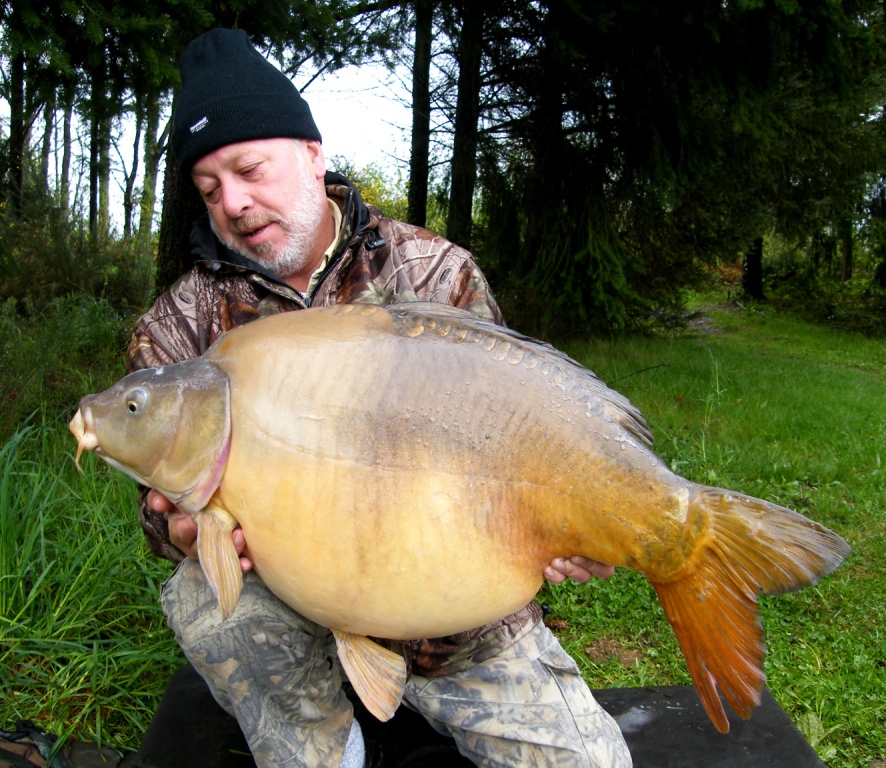 Darrell with a new PB 47lb Mirror Another 49lb12oz Mirror, so near!
A reasonable nights sleep and into the early afternoon without a fish to any of our rods. 1.00pm produces a 35lb4oz mirror for me from the back of the island and 11/2 hours later Steve has a 39lb4oz mirror from the dam wall, that's now a total of 13 carp and it's only Tuesday afternoon, not even half way through the week, I'm on 7 fish, Steve is on 3 and Darrell has 3, Perry hasn't had a touch?
Wednesday morning starts well Steve has a 36lb mirror at 7.00am, I catch another mirror 49lb12oz again (so near but so far) at 8.40am and Perry gets off the mark at 9.00am just before breakfast with a 40lb mirror caught off the point of the bay from swim 1. Bloody hell! Where's that breakfast?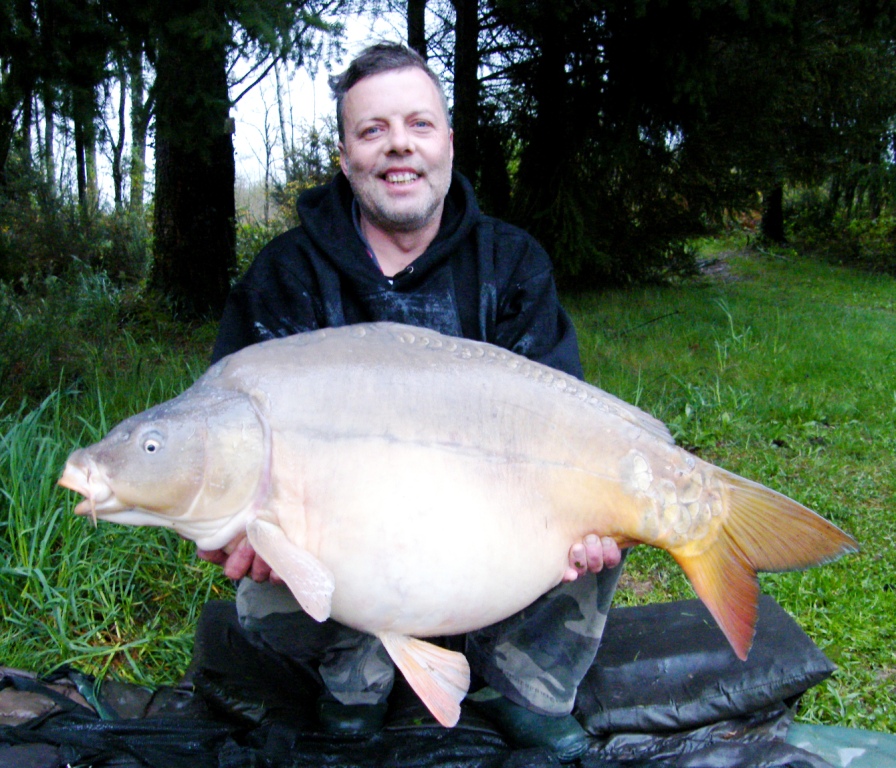 Perry is off the mark with this 40lb Mirror (the smile say's it all)
Steve is the only one with action before dinner on Wednesday with another two mirrors, these weigh in at 36lb and 29lb. The weather is now very cold, we have had more rain even hailstones, every type of weather except snow!
Thursday 1st May 1.10am Perry gets another run, this time from the near bay to his right, although this bay doesn't produce lots of fish it does look right and Perry lands a nice mirror at 24lb8oz. The fishing is now slow, we put it down to the weather which is very cold, wet and miserable, no runs on any rods until first light on Friday morning at approx 7.00am it's the middle rod that signals the take, this bait is as before on the front of the island under the tree, I had already had four fish from this mark, some with the Pulse some with the Cell, this time I had the Cell as hookbait and about 50/60 free offerings along with some pellet and seed delivered by the baitboat. The water erupted as the fish 'took to its fins' and raced towards the middle of the lake, which again is just where I wanted it to go, away from any snags that the island may hide. After a fairly ponderous fight which lasted a good ten minutes I drew the fish over the waiting landing net that Perry held in position, this looked another 'lump' Perry tried to lift it, then took another shot after rolling the mesh around the net arms a few times, off he waddled to the waiting unhooking mat, with me following, the fish looked big, it looked bloody massive to be honest, I said to Perry 'well son what do you reckon?' he looked at me and said the obvious, 'it is a lump son' after unhooking the fish into the weigh sling and up on the scales, they settle at a fraction under 54lb, subtract the sling and we settle on 51lb12oz! I've done it 2008 the year of the 50! Darrell ran round to witness, congratulate and photograph the fish, Steve came over the walkie talkie with his congratulations and Perry just said 'well done son' just how he always does. Magic!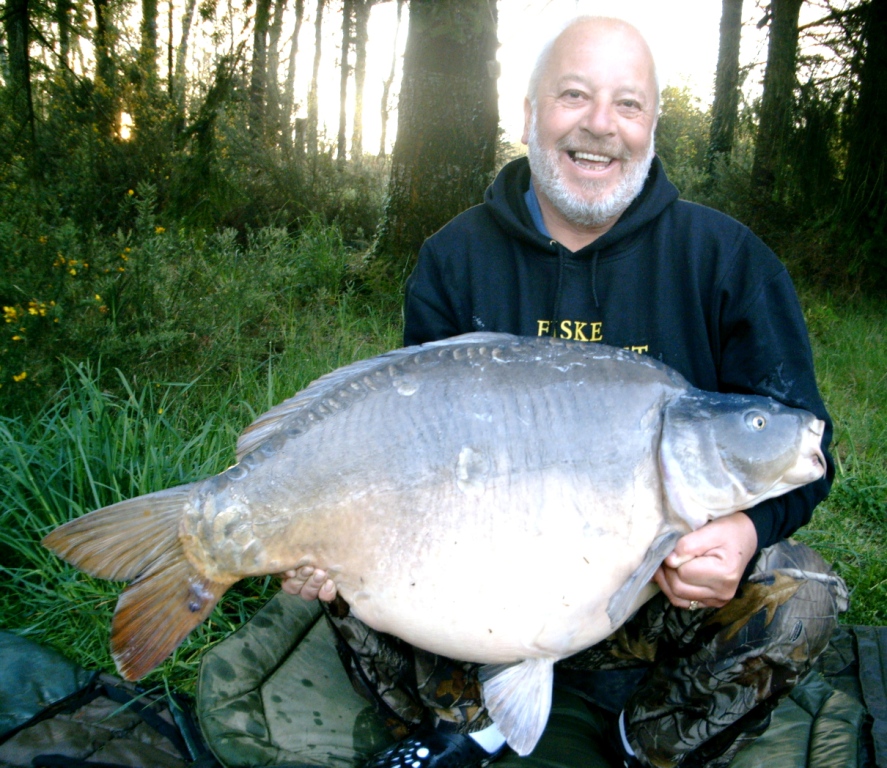 It's in the bag 51lb12oz and a new PB
I sat on my chair put the kettle on and made a nice cup of tea, at about 9am we had breakfast where I shared the pictures on the digital with Theo and Edd.
Steve catches another mirror of 38lb at 1.00pm and I had the last fish of the week early Saturday morning at 1.15am this fish weighs 30lb exactly, we manage a good sleep and wake up at about 7.30am ready to pack up and the long drive home.
To summarize this is a list of our catches, one thing to point out was how well all my fish were hooked, they were all hooked in the bottom lip well back in the mouth, size 5 ESP raptor hooks, with 10'' braid hooklinks did the trick, with 3oz ball leads.
| | | | | |
| --- | --- | --- | --- | --- |
| Date | Andy | Darrell | Perry | Steve |
| 27/4 | 34lb4oz mirror | | | 41lb mirror |
| 27/4 | 49lb8oz mirror | | | |
| 27/4 | 33lb8oz mirror | | | |
| 28/4 | 43lb8oz mirror | 25lb mirror | | 42lb mirror |
| 28/4 | 30lb12oz mirror | 21lb common | | |
| 28/4 | 49lb12oz mirror | | | |
| 29/4 | 35lb4oz mirror | 47lb mirror | | 39lb4oz mirror |
| 30/4 | 49lb 12oz mirror | | 40lb mirror | 36lb mirror |
| 30/4 | | | | 36lb mirror |
| 30/4 | | | | 29lb mirror |
| 1/5 | | | 24lb8oz mirror | |
| 2/5 | 51lb12oz mirror | | | 38lb mirror |
| 3/5 | 30lb mirror | | | |
A very good week for me and Steve, Darrell had a new PB with his 47 and Perry still had a 40, considering how changeable the weather was it could have been a lot worse. The Dutch lads Theo and Edd both had about four or five fish each although they did experience a lot of hook pulls, I think they could have doubled their catch if they had not had the hook pull problem.
Jan and Wally who were looking after us with the food etc. provided a good service, although not to the same standard as George and Debbie in the past two visits. I am not sure whether George and Debbie will return to Negreloube in the future as other information and incidents came to light during our visit, however, this is not the place to go into that, this is an article about our trip and the fishing.
Will we return to Negreloube? I doubt it, we have been now three times, never before had we returned to the same French venue, so it does say how we rate it, but we have to move on, there are so many lakes to fish and big carp to catch, can't wait till the next one.
Here is the new link