Negreloube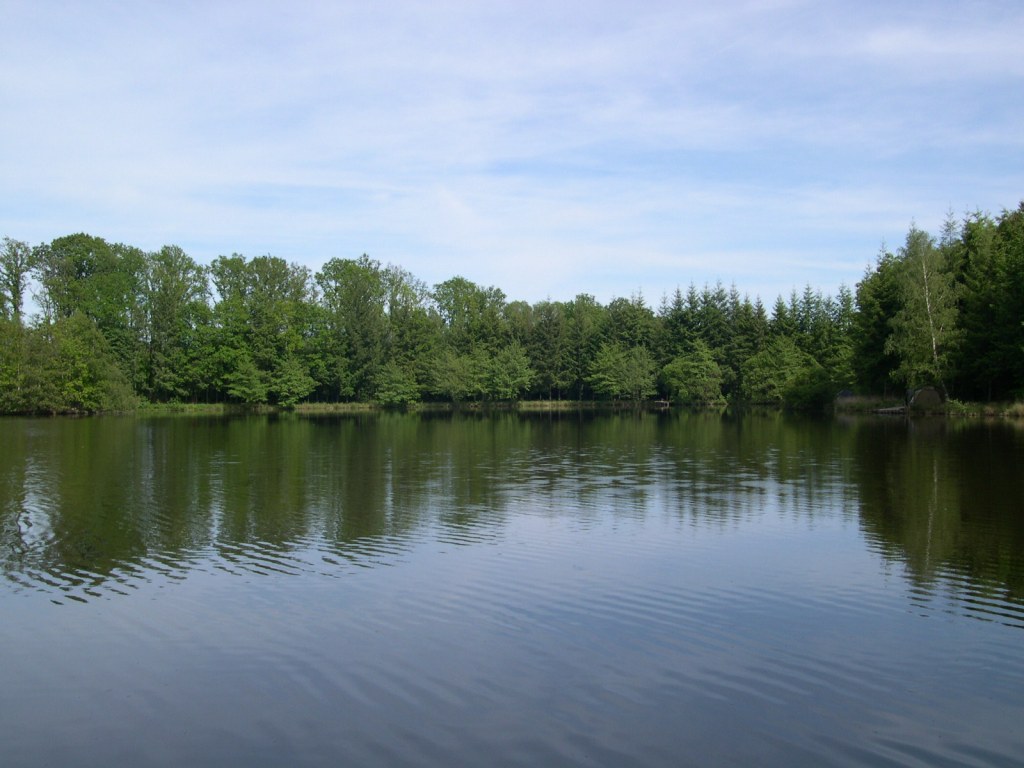 Living here in Spain doesn't mean that the boy's that I travelled to France with in the past have forgotten me, we regularly speak on the phone and whenever I'm back in the UK meet up. So it was time for our trip to France, Steve had taken the role of organiser for this trip, the brief from me was to make it fairly central France as I had to drive up from Spain on my own again, as there are lots of waters around the Limoges area this seemed a good area for Steve to look. Steve came up with a place called Etang Negreloube, The website showed pictures of some nice carp present and the lake looked a nice size and depending on who was coming with us we could have the lake to ourselves.
The end of May was chosen as the time of year, although carp in France can be spawning at this time of the year we had to select this time because of other commitments including work. The line up this year included a couple of new faces along with the old boys, me, Steve, Perry and Perry's brother in law Pete were the old boys with Petes mate big Steve and Ari who was a colleague of Steve at work. Perry arranged the bait through Mainline as usual and we were to try some of the new Pro Active Pineapple. Ari was to stick with his own bait but the rest of us chipped in as usual with the cost of the boillies and pellet etc.
Steve had been in contact with George at Negreloube for some tips and what we needed to bring, now the good thing about this venue is, they have bivvy's pitched in the swims along with bedchairs, small chairs, unhooking mats, scales and tripods, weigh slings and even landing nets and pods!!! This meant that the amount of gear could be drastically reduced in the cars, but you can of course take all your own gear if you want to. George and Debbie offer a meal package at the venue, which includes a full cooked breakfast and massive evening meal, trust me, you won't go hungry here! Although normally I like the outdoor cooking and trips into the local village for supplies, we all decided on the meal package just so we could all get together every day for a bit of a social.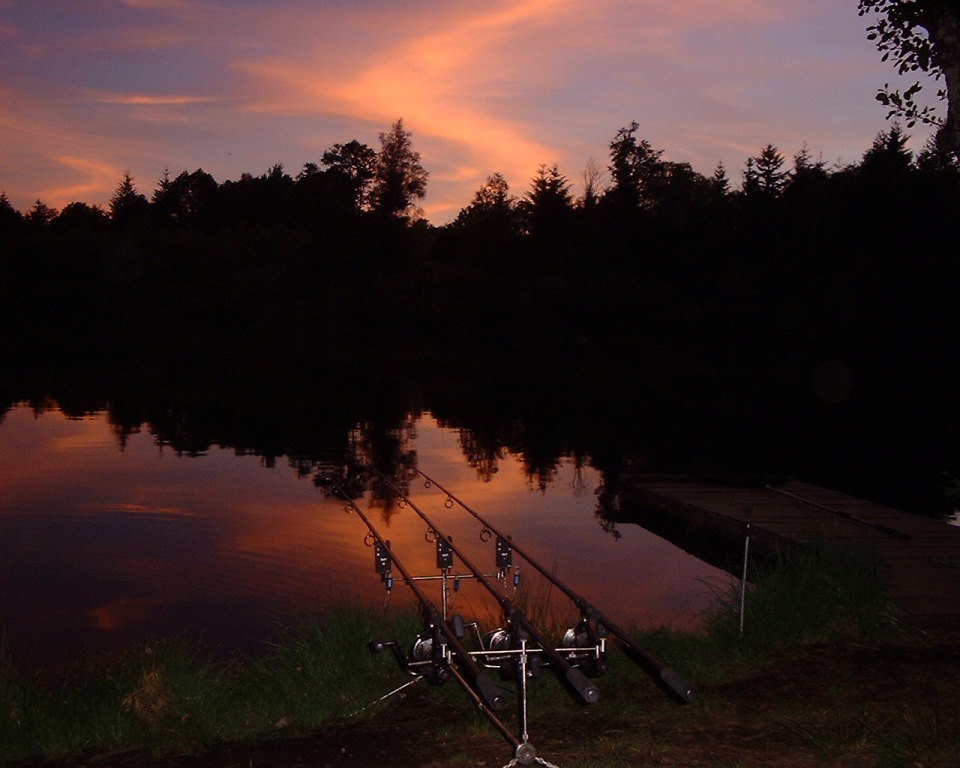 Sunset at Negreloube (notice the take on the middle rod!)
The time came for us to start our week, the weather had warmed in France, with news of carp spawning in various locations throughout, the weather in Spain had been very hot so I knew the fishing could be hard if the carp had other things on there mind! I was to drive up from Spain in my Renault Kangoo, a vehicle that is really built for the job of carrying all the fishing gear needed for a week. I was to split the drive into two halves going, so arranged the gear so my bed chair could be carried set up in the back, that way I could have a kip on the Friday night half way there and arrive nice and fresh on the Saturday morning, the boys were driving from the UK in two cars Perry, Pete and big Steve in Perry's estate and Steve and Ari in Steve's hatchback, the idea was to meet in the town near to the lake then George would come and collect us, all this worked fine and we arrived at Negreloube mid morning to a nice cup of tea or beer, from memory I think we all had a beer!
George walked us all round the lake and left us to decide who and where we were all going to fish, Pete and big Steve chose the nearest swim to the lodge with big Steve on the left covering the island and Pete on the right fishing into the bay. Steve and Ari fished the far bank Ari covering the other side of the island and the dam wall with Steve to his left fishing open water but having a big non bivvy area to his left. Perry and I had the far swim which was opposite a nice tree line, but a fairly shallow area of the lake where the stream entered.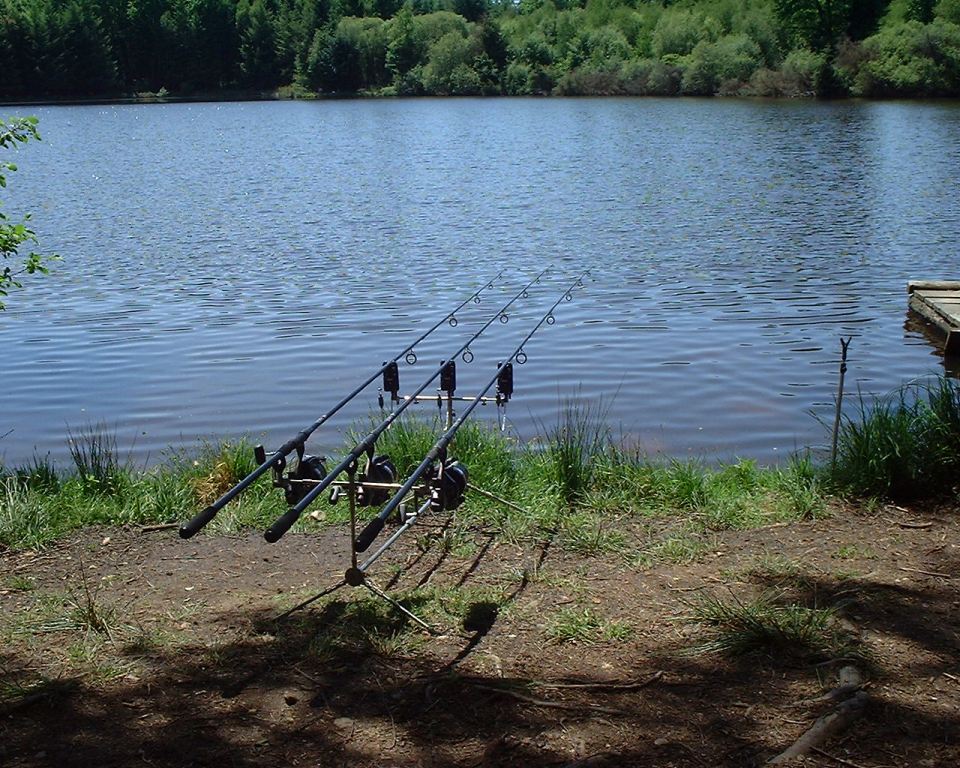 And sunshine at Negreloube
After a lovely meal (cooked by Debbie) at the lodge we settled down for some fishing, I had forgotten my eye drops that evening so left Perry to watch my rods along with his own......you've guessed it, Perry is just about to net a 32lb Mirror on my return to the swim......on my left hand rod!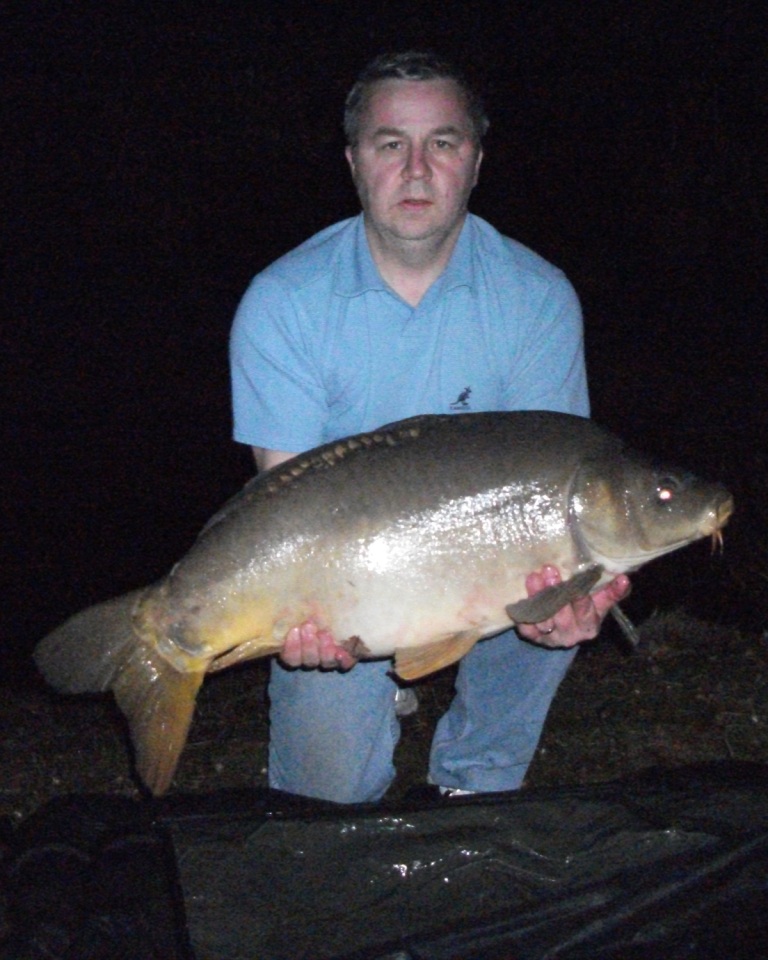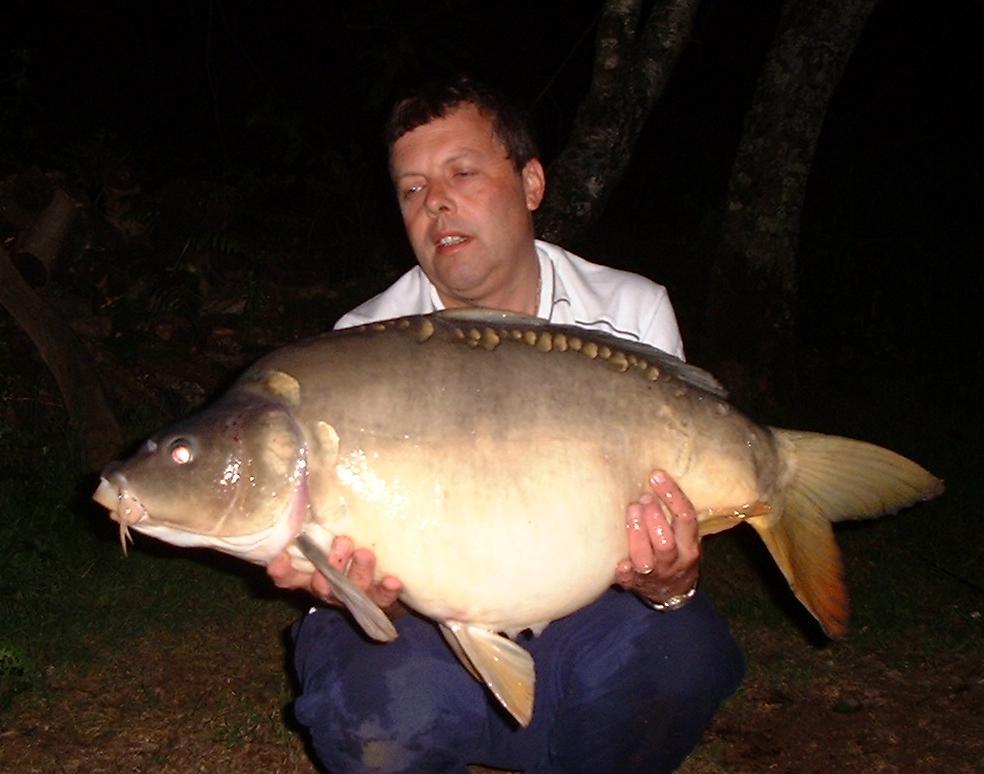 My one, caught by Perry He does catch em on his own rods!
We all caught some great carp throughout the week, some caught more than others, Pete and big Steve didn't catch many fish but I know big Steve caught a nice upper 30, I haven't picture of the fish but remember it being a very nice looking carp. Ari caught a lot of carp off the dam wall but from memory they were not massive but all good twenties and a couple of low thirties.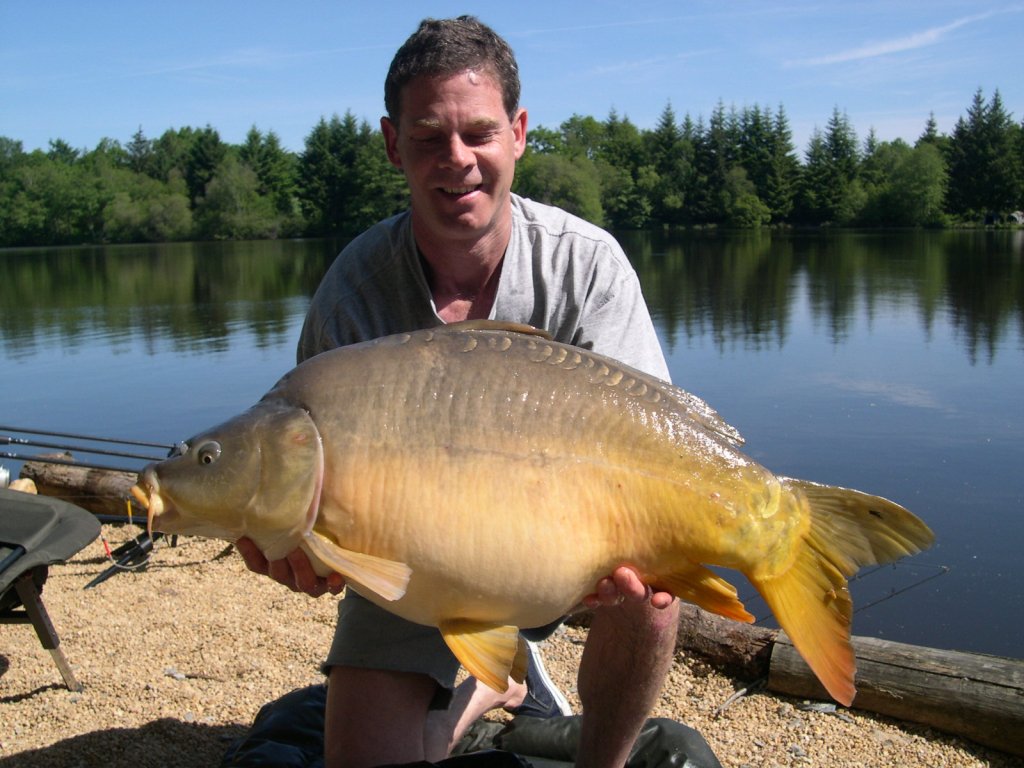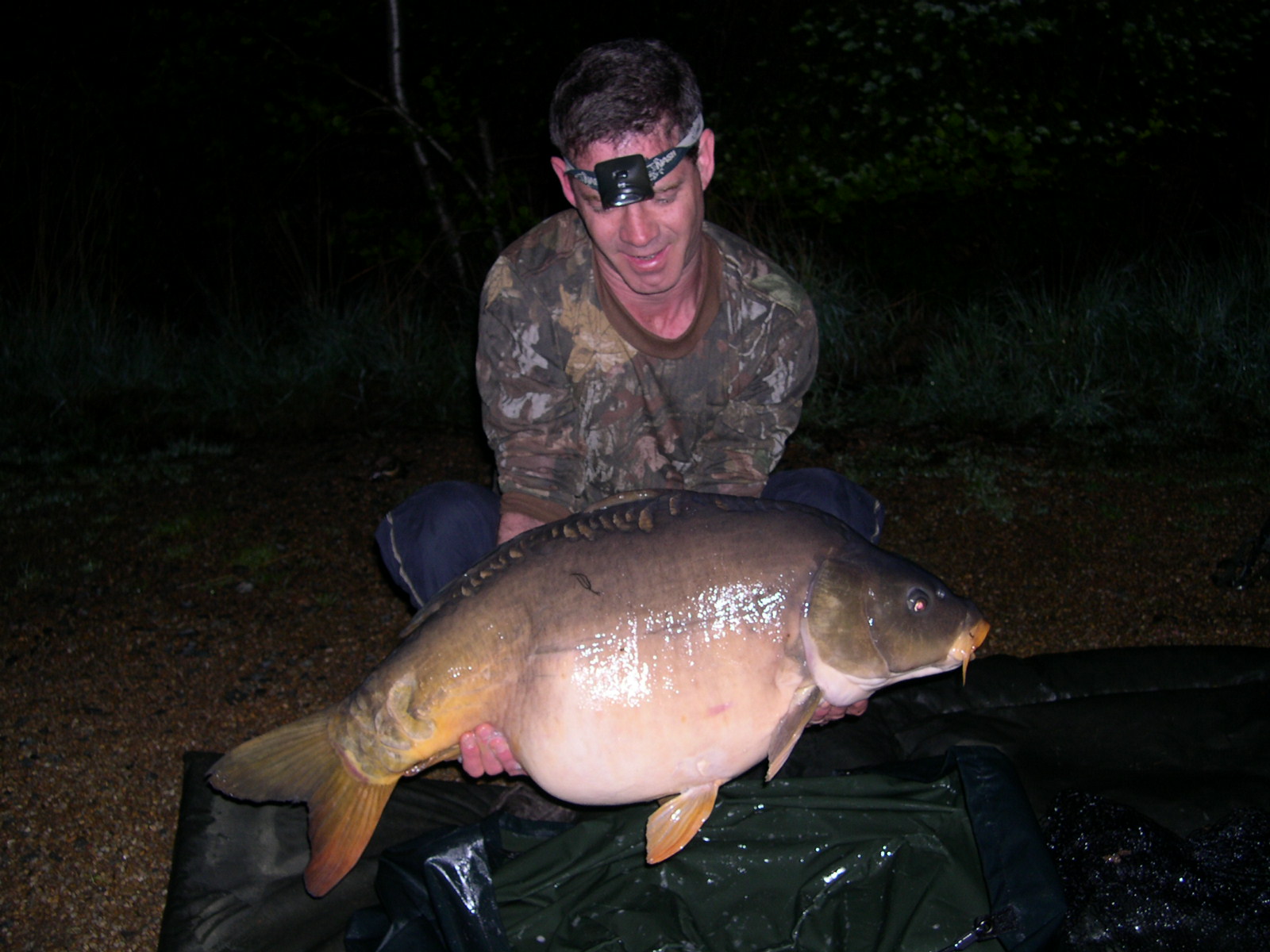 Ari with a couple of crackers
Steve had a cracker of a week, well deserved as well, most of Steve's fish came late evenings upto about midnight when he went back to his bivvy. After dinner Steve was to fish the tree line to the left of his swim, just with the minimum of bait and tackle, casting two rods along the tree line Steve picked up three forties during the week, two of them being the same fish, a named fish known as the 'cyst' due to lump on it's shoulder. He also had a few other nice fish and really enjoyed his week, thanks for the organising son!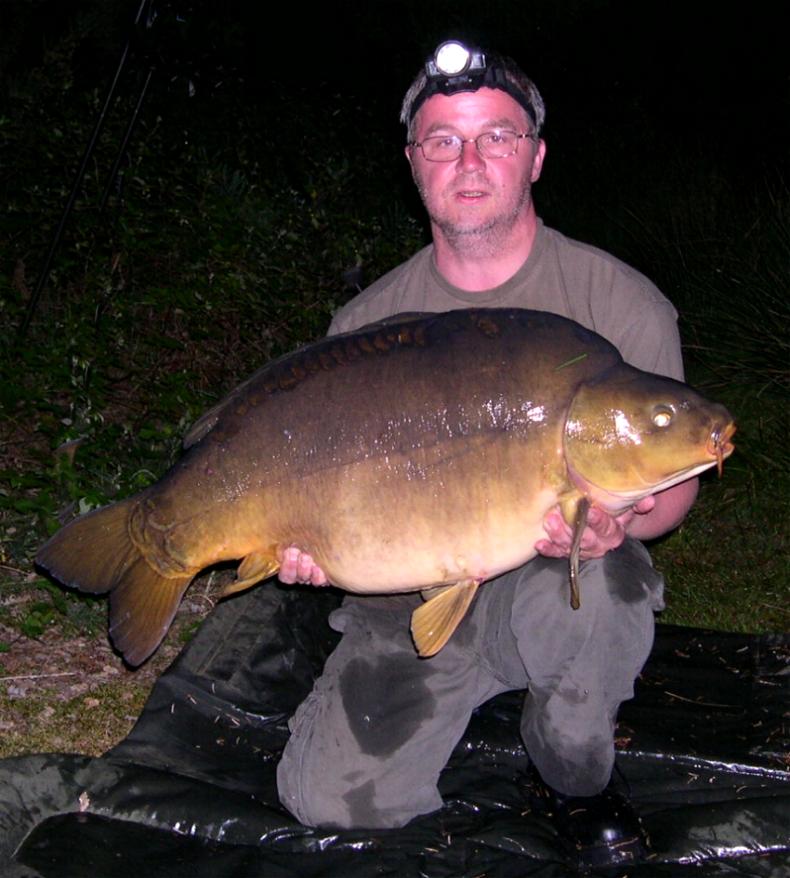 Can't be bad eh! Two of Steve's whackers.
What did I catch? Well I didn't catch any forties but I also had a very good week, some great carp, plenty of food, terrific company, altogether a great holiday. Here are a few of my fish.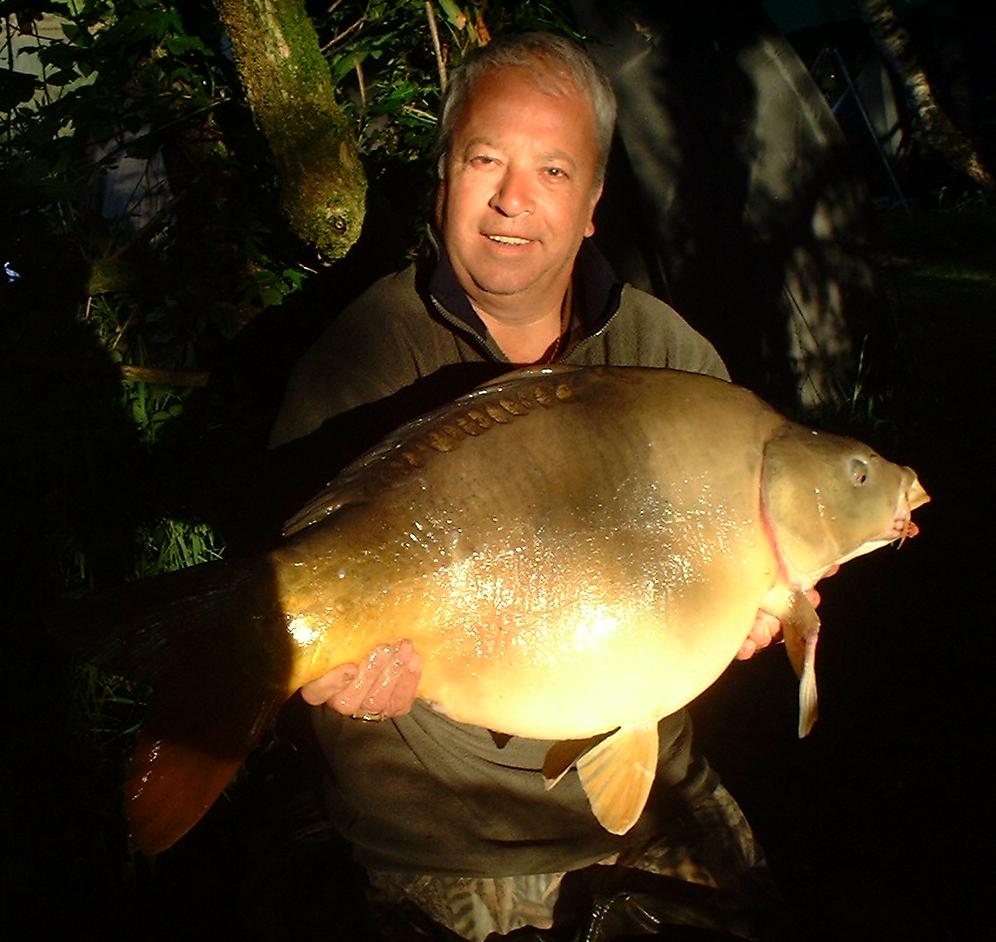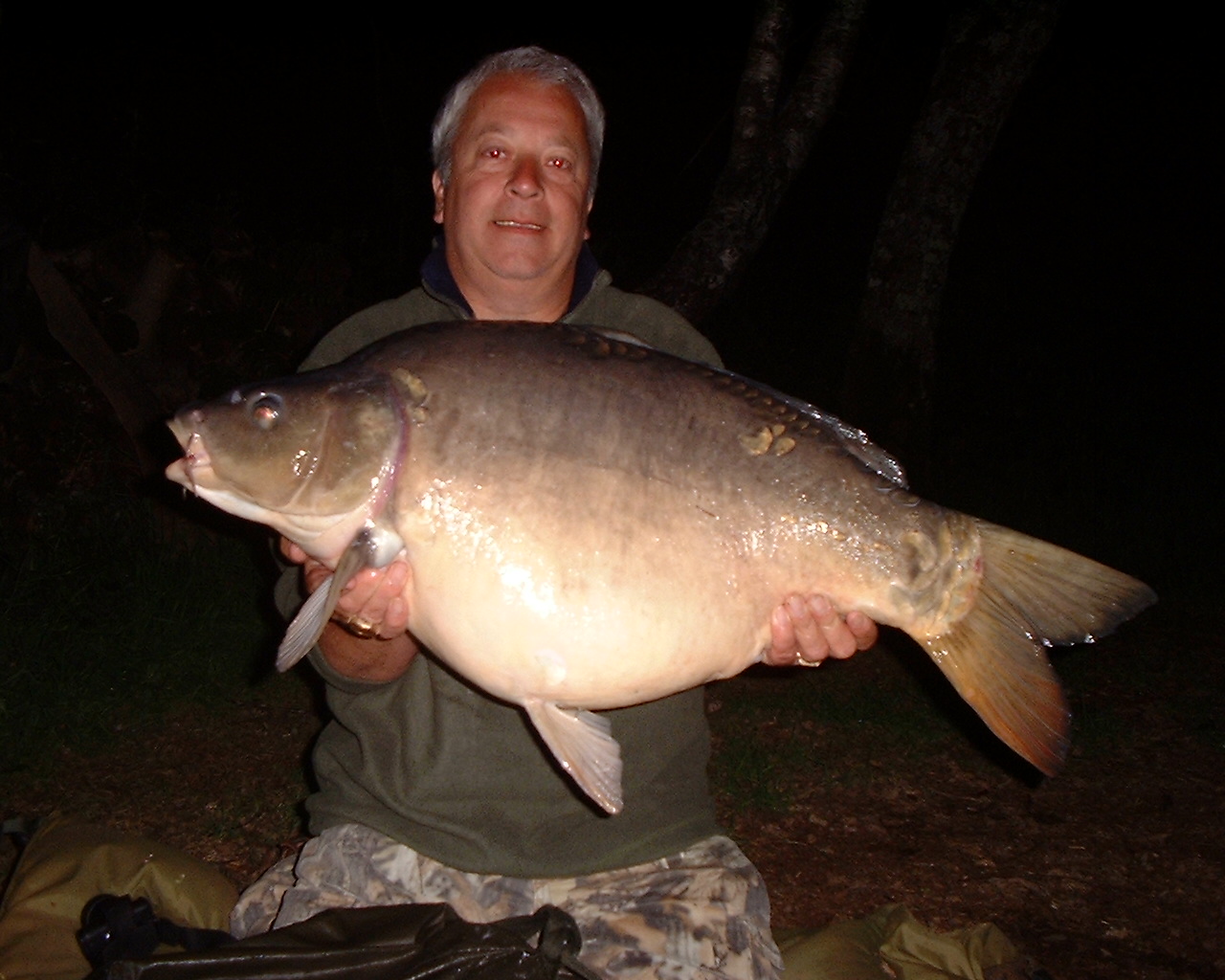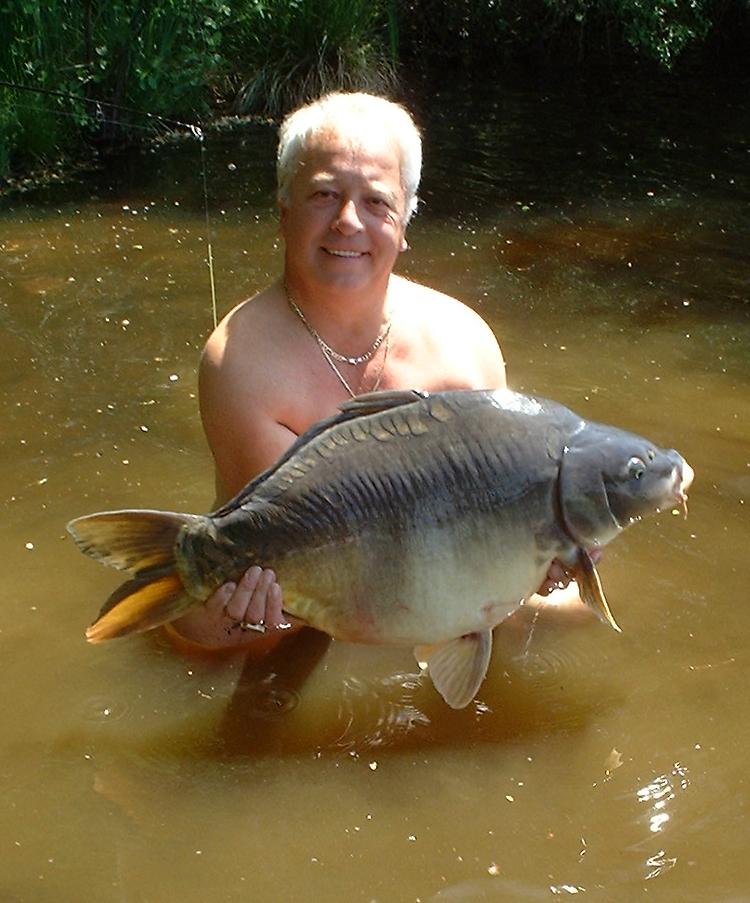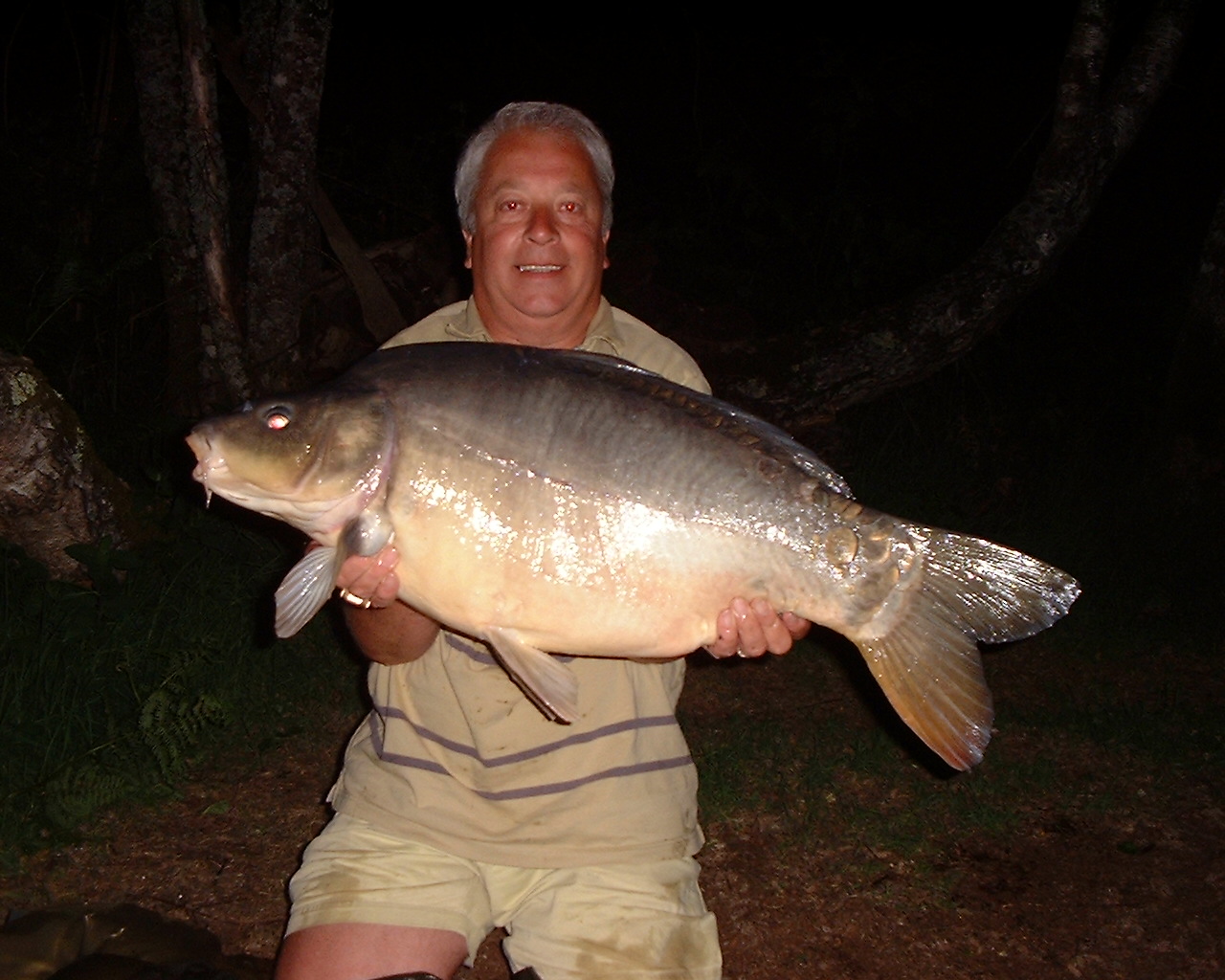 To summarise our week at Negreloube, the venue is very good, clean and tidy with just the right amount of swims and safe areas for the carp, plenty of trees around the whole lake but plenty of room in each swim for casting etc. The lodge is very comfortable and if there is an important match on the tele George will sort that out also, toilets and showers are clean and respectable and the food is nothing but excellent, (I would recommend the food package). The carp are all fighting fit and in prime condition, although we did have one or two with some mouth damage, but only slight. Considering the carp were spawning for part of our week we achieved good results and could have understood if some of the carp had been a bit tatty, but as can be seen by the the pictures I think you will agree some very fine carp swim in this lake. One other thing I forgot to mention, there is a small lake in front of the lodge which George allows you to fish that holds some smaller carp, talk about a shock when I had a little dabble and a near twenty pound rocket nearly pulled the rod from my hand, this fish picked up the bait at one end of the lake then shot right to the opposite end as I just watched the line cutting through the water, great. Anyway if you fancy giving Negreloube a try I'm sure you won't be disappointed.
Here is the new link to this venue