L'etourneau 3 'The Final Conflict'

After our great trip back in 2012 we just had to return!
2013 Darrell had treated me to a week at 'Moorlands' for my birthday, we had caught a few with Darrell catching the 'Peach' at 57lb a new PB for him, but due to us doing so well here during 2012 Steve, Perry and Vince booked a week here for 2013, to say the least they had a fantastic week all catching 40's and 50's during their week, so when I said about one more visit they were up for it.
So 2014 was to see a big group of us spending the week from October 25th at this great venue, I, as normal would be travelling up from Spain, Perry and Steve would be coming as usual from the UK, making their normal crossing across the channel and Darrell would be coming from Sweden with the Hammer and another Swede, Richard Tomanko. Darrell, the Hammer and Rich would fly into Paris, here they would hire a car then drive down to Limoges and meet us on the Saturday morning. As I had to drive up on my own again, I left on the Friday morning after asking Danny at the lake if I could arrive that evening and sleep either on the sofa in the lodge or bivvy up just outside for the night. Danny being the great bloke he is, let me sleep in a spare bedroom at the lodge, so much better than driving through the night and arriving knackered before you even start the week.
This year Darrell, Hammer, Rich and I were using Splash Baits as the supplier for our bait, there was a delay in the bait arriving to me here in Spain, the packaging wasn't that good either with some of the packs opening up during transit. Perry and Steve had ordered BS1 from Catcher Baits and I had asked them to get me 10k too, this giving me to option to vary my approach between two different boillies, we also had the normal pellet and particles, so plenty of options to 'mix it up' a bit.
We had our normal draw for swims, and would fish in pairs, the pairs would be determined by the swim choice of each angler. The final line up was, Hammer in big snags pairing up with Darrell in little snags, me left side dam wall pairing with Perry right side dam wall, Rich in three swims and Steve at the entrance to pine bay. Now the problem with this amount of anglers, especially if using bait boats, on this lake means there isn't anywhere to move to and all areas of the lake have lines through the swims, not the ideal situation to create feeding areas for the carp.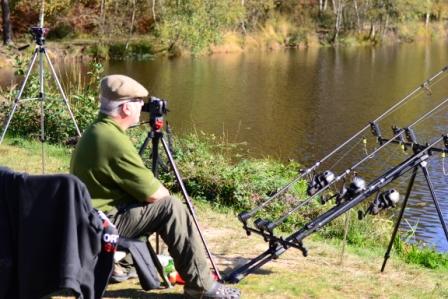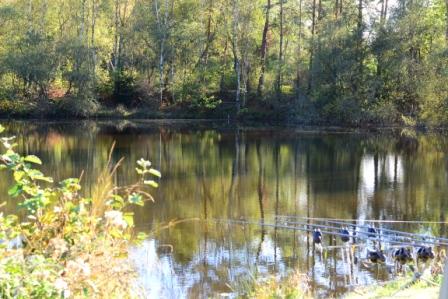 Left side of the dam wall Right side of the dam wall
Let me explain why I mentioned about baitboats, let's face it when you have a baitboat you do tend to fish a bit further out than if you wasn't using one, it does make the job of baiting a spot and accurately fishing to that spot easier and it prevents the disturbance of using a spomb or spod or dropping particle all over the swim. It becomes second nature to clip the line up or mark the line and send the baitboat out loaded with 1kg+ of mixed particles, pellets and boillies along with your hookbait to a spot that is lined up with a light or tree line on the opposite bank. So my reason to mention this, is down to when the lake's swims are all taken and it becomes a bit too easy to extend the distance that everyone is fishing and that can cause problems on where the boundaries of each swim are. I'll say no more :-)
We were all setup and fishing by the Saturday afternoon, there had been a short shower but nothing too bad and the week ahead looked to be fairly mixed weather wise, bit chilly at night warm days and the possibility of showers. It all started very well when Darrell caught a lump of a carp weighing 47lb 12oz!