It was a warm sunny afternoon when the phone rang, it was Juan Carlos, he had some friends at his house for a BBQ and they had asked about carp fishing on the River Ebro, Juan Carlos isn't an angler but he knows it's my passion, hence the phone call. 10 minutes later we are sitting on our patio with a cool beer talking about carp fishing. It worked out that Kim and Steve have a son who went to the same school as our middle son Darrell, they actually live about 5 minutes away from where we used to live back in the UK. (small world isn't it).
Anyway a day was fixed for me to take Kim and Steve and another couple to the river for a day carp fishing, although Steve had done a bit of fishing he would never describe himself as an expert. However we all caught plenty of carp and everyone had a real great day, on the way back it became obvious that Kim wanted to go again, Steve was very happy to book another trip, the other couple were due to return to the UK soon so decided not to come. The date for the second trip was Sept 21st.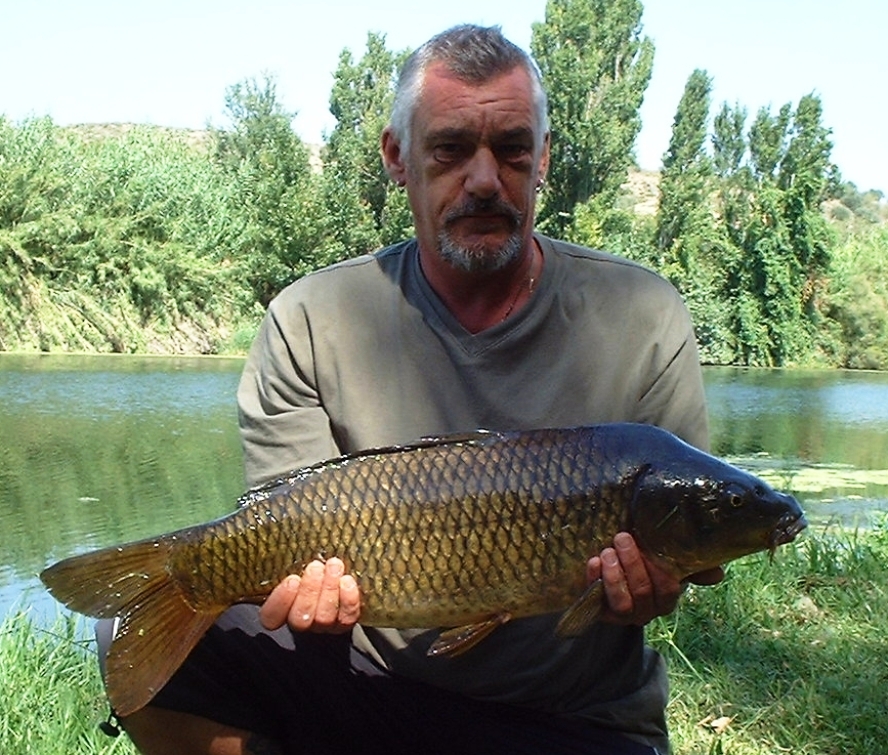 Steve with one of his commons
September 21st,
As we had a lot in common with Kim and Steve my wife Sandy decided to come along for the day and talk to Kim about our boys and what they were up to now they had left school etc. When possible on these carp fishing trips I cast a couple of rods out for myself and fish for the catfish, some days I catch some days I don't, but when I do it's great to see there faces when they see such huge fish, but most of my anglers are scared to get too close when they see the size of a big cats mouth!
This day was no different, we had managed to set up in one of my favourite spots where I had caught cats before, a bait cast only about 40 yds in between some weed but on a nice area of gravel had produced on previous trips, so my bait was cast to the spot, another bait placed further downstream and we were ready. Steve had already had a few carp nothing really big, but some nice action, the carp didn't seem to be feeding too well which sometimes happens if there are a few big cats in the area, I have noticed before that the carp fishing has gone very quite when I have caught catfish, perhaps with cats in the area it keeps the carp on there toes? if you know what I mean?
At about 12.30pm the alarm sounded on the rod which had been cast to the gravel area, just a nice steady take, with the spool turning smoothly on the big Shimano reel. The reel is loaded with 60lb braid which you need when dealing with big strong fish like Wels Catfish, I tend not to strike in the true sense, more just letting the line tighten and bending solidly into the fish, the bait is fished on a size 5/0 hook tied to a 100lb braid hooklength. The cat decided to make things a bit difficult, off it went down the river taking line against a very tight clutch, and of course with braid you feel every movement the fish makes through to your bones. The rod took on an alarming curve, I use 3.5lb TC 12'6'' rods which really are powerful carp rods, but then again I do like to give the fish a chance?? The cat kept going so I had to walk along the bank to keep in touch and pass the rod from one hand to the other round a bankside tree, (which you can see top centre in the pic).
Three Belgian anglers were fishing along the bank and were now at my side trying to see what I was hooked into, one guy climbed the tree and was screaming ¨I can see it, it's over 2 metres long¨ which didn't make things any easier. Steve was scratching his head saying what the bloody hell is it, Kim was holding her face looking like the aliens had just landed and Sandy was starting to get the scales out my rubber glove and the pliers already for the unhooking (after 30 yrs married she knows what to do!). Trouble was the cat didn't want to come and have his picture taken just yet. After about 15 mins the pressure was telling on the fish and it was coming closer to the bank, the weed was fairly heavy close in and the bank was fairly high but I took an opportunity to land the fish when it wallowed between the the weed in front of me. Sandy handed me my glove I jumped into the river still holding the rod and gripped the bottom jaw of the fish, you have to be careful when doing this, I could see where the hook was so there was no danger there, but sometimes cats can twist when gripped this way which could hurt your wrist and arm, I held firm and was ok. From where I was standing there was no chance of me lifting the fish out on my own, Steve asked shall he get in with me, I welcomed his offer, but we still couldn't lift it out, two of the Belgian anglers then helped and we lifted the fish onto my big unhooking mat.
We tried to weigh the fish accurately but it bottomed the scales at 130lb with part of it's tail still on the ground, one of the Belgian anglers measured the fish at 2.3 metres which in old money is over 7'6''. We could have tried to obtain bigger scales but my main objective is to get all the fish I catch back in the water as soon as possible and see them swim away strongly, my view is that the least damage we do to our quarry the better for all. After getting back into the river and supporting the fish for a few minutes the cat swam away none the worse for it's encounter.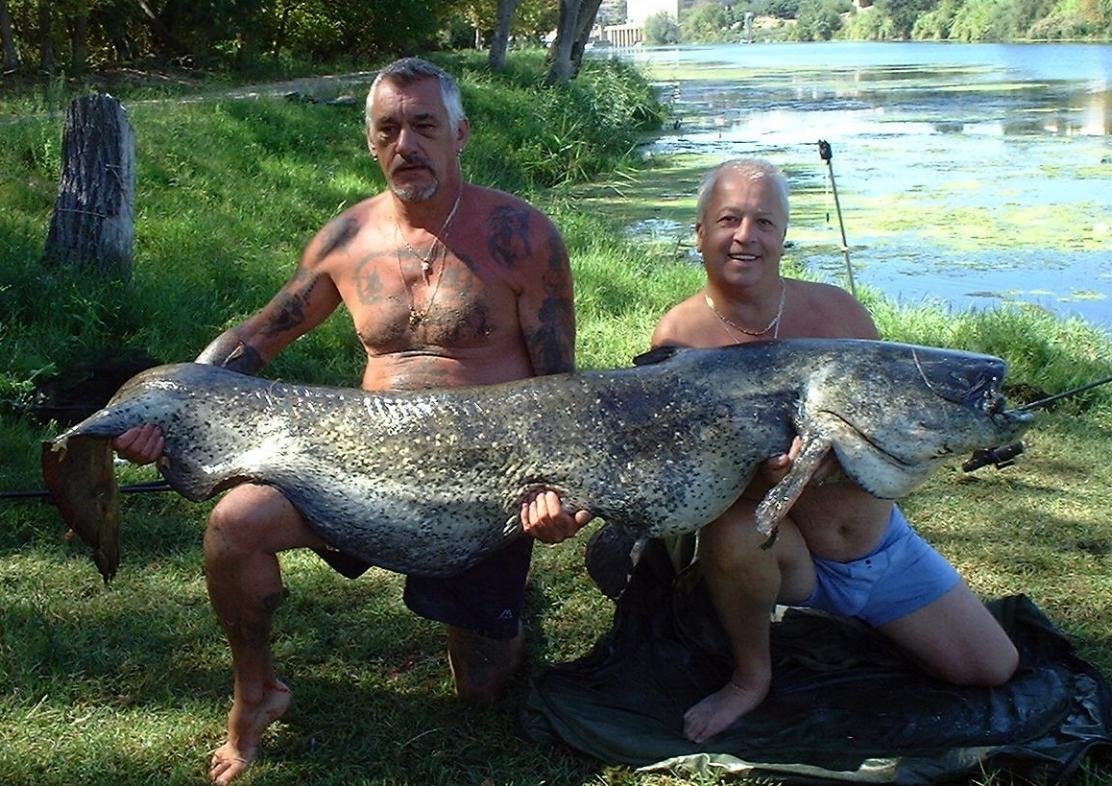 The Monster at over 130lb
The next day back at home my first job was to make a much bigger sling that would contain all of a fish of this size ready for the next encounter, this is now done along with very strong supports each side and a pick axe handle to hang scales which can weigh up to 220lb on.
I'm now ready, bring it on!