<![if !vml]>

<![endif]>
A view from swim 15.
Back at the end of August 99, Perry my mate from the "old firm" phoned and asked if I fancied a trip over to France again this year. After explaining that finances were a bit stretched this year due to my 25th wedding anniversary, 2 foreign holidays and Darrell's flight money back and forth to the states, I said YES. However we would have to do it cheaper this year rather than an "all in" trip we would make our own way over and fish one of the cheaper waters.
Boulancourt (Etang de la Horre) was chosen, Perry's brother in law had fished the lake 3 or 4 times but the last time was around 3 years ago. I remembered seeing a site on the net that had some details about booking direct (Ron Prowse cheers) so Perry had a word with a French speaking aunt and the week was booked.
Steve, a mate at work said count me in, so it was decided 3 for a week at Boulancourt w/c 2nd October. How were we to cross the channel? Last time Perry and I used the "Chunnel" but that was for 5 days, the price for a week return ticket is £249. how come so much dearer than £90 for last years 5 days? P&O ferries were charging about £200, but Sea France were charging £159. over the net, Sea France it was then. My company supply me with a company car (Mondeo hatchback) but I knew of a Mondeo estate that just happened to be knocking around. After a few phone calls and nearly 2 weeks wait I was driving a Mondeo estate, just fully serviced, new air con unit, insurance documents from the firm and documents from the leasing company allowing me to take the vehicle out of the country, complete with RAC cover.
<![if !vml]>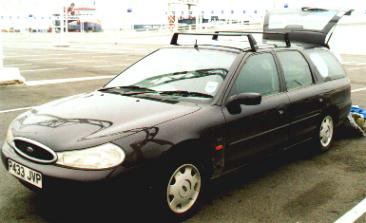 <![endif]>
Mondeo estate, fully loaded
Ok we are now booked up and the travel arrangements made, what bait? I had received more information from the list (Tony F) had answered all my questions as he had fished there this year, cheers mate.
So the bait, we decided on the following :-
10k of frozen active 8, cost £75
20k of Bob Morris ready mades (18mm Toffee cream), cost £60, (bloody good value)
25k Trout pellet, cost £25
50k Maize, cost £13
What food shall we take for ourselves? We agreed we would only take enough to take us through till Monday, then go into the nearest town for supplies, this we hoped would save some space in the car. I had borrowed two roof bars for the car just in case we were going to be a bit tight.
The week before the trip saw me cleaning the rods, new line on the reels, check on all the other bits and pieces and buy a new bivvy from Humberside Angling (The Terminator), for the money it represents very good value.


<![if !vml]>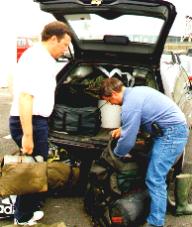 <![endif]>
Where the hell is that passport? It must be in here somewhere?
The Journey
Saturday 2nd October, the crack of dawn, its raining, the estate is bulging at the seams, theres two bedchairs strapped between the bars on the roof. I'm driving, Perry is riding shotgun and Steve is somewhere in the back under god knows what of carp tackle and bait. We arrive at Dover complete with passports at the ready and a fuel tank full to the brim (I have a company petrol card for this country).
The nice young lady at the check in gate informed us no ferries until the weather improves, we were booked to go at 10.45am, we finally left Dover at 2.30pm.
Bonjour at about 4pm straight onto the A26, driving through rain, rain and more rain, getting dark, getting lost (a bit) and then some good luck. A very friendly French couple actually drove us directly to the lake, we thanked them and drove into the car park at Etang de la Horre at roughly 8.30pm.
The journey is quite straight forward really and in fine weather would have been much quicker. By using the autoroute we travelled through two toll booths one costing 101ff the other costing 39ff.
Patrice the bailiff allowed us to sleep in his big garage for the night and we arranged to see him at 8am Sunday morning to start our fishing.

The Fishing
8 am Sunday morning, after a nice cup of tea and a quick look at the lake, into the office for "the interview" this is when Patrice explains all the rules concerning fishing the lake. He takes the balance payable and £30 deposit from each angler, just in case you become a rule breaker or damage anything during your stay.
Anyway, 12.30pm all the gear is now in the swim, the bivvies are erected and the rods are cast to the right spots, lovely.


<![if !vml]>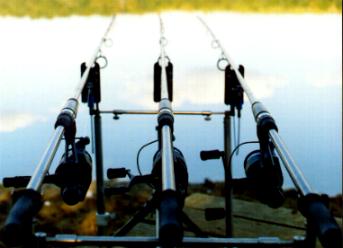 <![endif]>
Rods are cast to the right spots.
<![if !vml]>
<![endif]>
Result 28lb 8oz of mirror carp.
2.00 pm the left hand Delkim screams into life, this had been cast about 10yds off to the right of the island, active 8 boillie size 6 barbless hook, line aligned to 15lb Hutchy edge braid, about 20 baits had been spread around each hookbait with the throwing stick, result 28lb 8oz of mirror carp laying in the weigh sling. A little bit on the video and a few pics with the SLR and back she goes to fight another day. Things were looking good. Out goes the baited rig aided by 3oz of inline lead and we are ready for the next one.
5 pm Perry is out in the boat baiting the area's round all of our markers and Patrice is back in the swim to check on our rigs, Perry's fail the "jerk" test, the swivel does not come away from the Nash safety rig easy enough for Patrice, a bead in between or a smaller swivel is the answer, one of Perry's hooks are still showing the signs of a barb that had not been crushed, pliers sort that problem. Steve's rigs pass all the test along with mine.
6.30 pm Curry and rice in the pan a couple of beers, the swims have been baited with maize, trout pellet and boillies.
9.20 pm the right rod signals a take, again to active 8. A few minutes later and Perry slips the net under a 25lb 4 oz mirror.
12.10 am Monday the right hand rod produces a 19lb mirror.
2.00 am middle rod 18lb mirror.
4.15 am right rod 19lb 8 oz mirror
5.10 am middle rod 21lb mirror
6.15 am right rod 21lb mirror
Phew, what a night!!! 7 runs, 7 hooked, 7 landed. Perry didn't have a touch, nor did Steve, Why? I haven't a clue. Same bait, basically the same rigs less than a couple of hundred yards away. We did manage a couple of hours sleep before breakfast but were still kn*ckered.
Into the local town for some supplies a nice hot shower and a coffee at the house meant we didn't start fishing again till about 2.00pm. The next action was again to my rods at 5.30pm whilst in the boat, Perry struck while I was rowing back to shore, he handed me the rod all was going well until I was ready to net the fish, when it fell off the hook. Oh well back to the baiting up and casting out ready for the night.
9.00pm Perry was in, 25lb 4 oz mirror
10.15pm Perry again, this time a monster carp, new personal best, 35lb 4oz mirror, a wonderful fish but did not fight that well.
1.15am Tuesday morning the Delkims spring into life a 19lb 12oz mirror is landed
2.00 am Perry again 22lb 12oz mirror
2.45am Perry again 31lb mirror, this fish did fight and would not go into the net, we finally landed the fish which carried on fighting till returned to the water after of course the photo shoot, what a lovely fish!
3.50 am Steve has his first fish 20lb 12oz mirror, he's off the mark.
5.15 am another take to me resulting in our first common of 22lb 4oz.
No more fish that night meant again 7 carp landed between us.
Not much fishing during the day a bit more shopping, showering and a chat with some other anglers from Holland meant we were ready to start baiting up for the night ahead. The rods were out and all of us fishing and eating our evening meal by 6.00pm.
7.30 pm Steve's into a big mirror which weighs in at 33lb 14oz a PB for Steve.
8.45 pm me and a 24lb 8oz mirror pose for the camera.
11.30 pm a baby of 16lb 8oz graces my net.
12.45 am Wednesday Perry lands the smallest fish of the week at 16lb.
7.15 am 23lb 8oz mirror again to my rods.
Usual stuff during the day, not much fishing.
11.30pm 22lb mirror to me.
1.30 am Thursday 27lb 12 common an absolute cracker which fought like a demon.
5.15 am Perry 22lb 8oz mirror.
7.10am 25lb 8oz mirror to me.
8.30 am 28lb 8oz mirror again to me.
The next fish came again after our evening meal when the swim had been baited.
10.00 pm A screaming run to my centre rod and bingo another 28, this time a mirror of 28lb 12oz
11.15 pm me again 25lb 12oz common.
12.15 am Friday, me again 20lb mirror. No other fish that night, but a good night's sleep, man was I looking rough!!
We started to get the mountain of gear together as we planned on leaving at the crack of dawn Saturday morning. As Steve had only caught two carp I suggested he come to the left of me and fished just off the island for the last night. I turned back for a second and saw his rods next to mine already to cast!!!
9.15 pm Steve lands a 27lb 8oz mirror left hand rod.
11.15 pm Steve 22lb mirror middle rod.
12.45 am Saturday morning 27lb 12oz mirror to my left rod.
4.15 am 20lb mirror to my centre rod.
5.45 am 18lb 8oz mirror to my right hand rod.


The last two rods after catching I did not rebait I needed a bit more sleep for the long drive home.


We caught 32 carp in total.
Me 22, Perry 6, Steve 4.
Total weight 758lb 4oz
Me 503lb 4oz, Perry 152lb 12oz, Steve 102lb 4oz.
Over 20lb total 25.
Me 16, Perry 5, Steve 4.
Over 30lb total 3
Me none.
Perry 2
Steve 1.
I understand we achieved second best on the lake during the week, two lads in swim 7 had landed over 70 carp by Friday, 10 over 30lb and a 41lber.
The tackle used by myself consisted of 3 x 3lb Harrison Ballista's, Shimano 8010 GT reels, 15lb Bass pro excel mono, 15lb hutchy the edge braid, Delkim TXi bite alarms, Nash 50" and 42" landing nets.
We still have some bait left, we only used 25k of the maize, about 14k of the Bob Morris boillies and 6k of the active 8, we used all 25k of pellet. Some nights we baited tight around our hookbaits but found we only then caught one fish per rod. If we spread the bait around a larger area one rod could produce up to three fish when re cast to the same area.
All the fish were in very good condition, the surroundings are nice and each double swim has a big area to fish, no one should be casting to your area. The actual size of la Horre is over 200 acres, so with only 16 double swims space is never a problem.