Etang La Renarde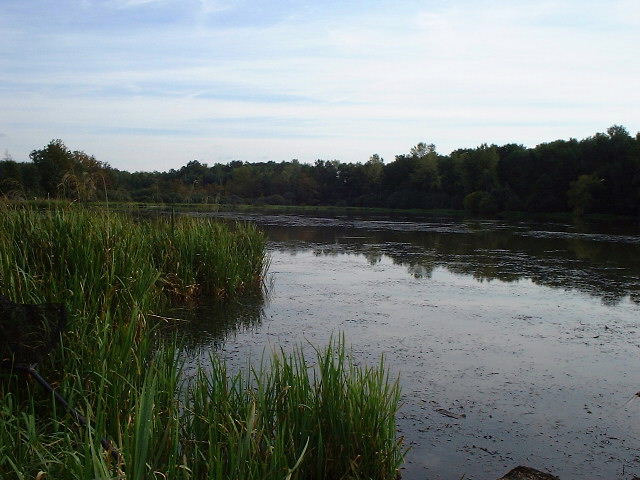 We had decided on this lake for our trip to France this year, Dave Payneís brochure described it as Ď a peaceful and secluded 30 acre shallow Etang that has a mainly silty bottom with a deeper channel running down the centre and 5 double swims for a maximum of 10 anglersí.
The facilities were described as basic, no hot water, no drinking water on site and a Ďdryí toilet in a small shed. Not the Ritz!!! But what the hell we were here for the fishing not a 5 star hotel room.
We had hired a Transit type van, 3 in the front and one in the back with the gear and bait. Perry had sorted the bait this time as he lives near Marriages at Chelmsford in Essex, 75k of trout pellet, 45k Vitalin, 50k Red Band plus our own stock of boillies etc.
We had 2 swims booked, swim number 3 midway along the north bank and swim 5 the last swim on the north bank, Perry and I were to fish swim 3 with Dave and Pete going in swim 5.
The Eurotunnel was booked for 2.20am Saturday, therefore we left my house at about midnight, fully loaded and ready to go. The travelling went well and we arrived at La Renarde ready to get started at about 3.30pm. (It didnít all go as smooth as silk but this piece is not the place to elaborate)
Saturday 3.30pm, Itís raining, Perry decides on the right of our swim leaving me the left, we have weed right and left of the swim but a clear area in front stretching 50yds into the lake, this weed was not solid, there were plenty of channels and gaps at various distances, we were advised to bring waders to this venue as no boats or bait boats are allowed, we both had chest waders. The channel that ran the length of the lake was at approx 120yds range. Pete was on the right of swim 5 fishing into mostly open water, whilst Dave would be casting to his left, towards the end of the lake.
The first night produced 1 fish between us, well to be honest Dave caught a 22lb mirror at 7am Sunday morning. We hadnít baited the first night due to the heavy rain and the time getting everything sorted into the swim, we were all very tired, I had lobbed out PVA bags to the edge of the weed bed and jumped into the sleeping bag after something to eat.
Sunday morning saw Perry and I baiting the swim with TPís, seed and vitalin, this we waded out to an area of about 90-100yds from the bank just before the channel began. Prodding around the bottom with the landing net handle showed various lumps and bumps on the lake bed, we could also feel softer mud and silt on the bottom that would bring the water level to within a few inches of the top of the chest waders!
Trust me on this, this activity if you have never tried it, scares the c**p out of you when you hit these very soft spots, itís different when at home wading in the margins along the bank but straight out for 100yds does seem a long way from home with the water lapping up near the top of your Ďchestiesí.
We chose the firmer mounds to bait, just for the reason we hoped the carp would find the bait easier.
The weather was very overcast with rain then clear sunny spells, the wind was blowing north easterly and felt cold for early September.
Sunday evening Dave caught another carp this time around 15lb, backed up by another low 20 during the night, Pete caught a 14lb mirror, Perry and I waited!
9am Monday morning while up at DaveíníPetes my centre rod indicated a pick up, 2 bleeps then a jerky take, Perry connected then unconnected, no other action all day. Dave continued to catch, Pete had another fish, Perry and I made tea!!!
9pm Monday evening I had my first carp 23lb, it was cold and raining hard, but oh well a fish at last, now all it needed was for Perry to catch one.
5am Tuesday just off the edge of a weed bed a carp picked up Perryís hookbait, everything was fine until the fish was maybe only 10yds out and the hook fell out!!
The wind had swung round slightly by dawn Tusday and was blowing down the lake towards the dam. Bernard who was in swim 4 with his girlfriend had taken a couple of carp up to 19lb to his right rod fishing towards the same area as Dave. The 3 French anglers fishing from the dam wall still hadnít caught. The carp were showing in the safe area at the end of the lake, as and when they moved they fed on the first baits they came across namely Daves and Bernardís. Not much you can do in this situation, we had booked these swims therefore had to stay in them, my opinion is perhaps holiday venues like these, should not have these safe areas, it would then keep the carp moving around that much more.
We were now wading out PVA bags loaded with bait along with our hookbait and placing it on a feature then a sprinkling of seed and TPís around the bag to an area of about a square yard, I have no doubt that this presentation could not have been bettered, every trap was set to perfection, the carp just had to come across it and it would be wolfed down!!
The weather had now got worse 40 hours non stop heavy rain, I must just say that the Terminator bivvy that I have now used for the last three years in France performed really well, no leaks and very stable in the strong winds. Dave had continued to catch carp, he even managed a pike of around 10lb that had hooked itself right in the scissors, it must have attacked some small fish that perhaps were feeding on the seed and TPís and scooped up his pop up. I had now caught a small common of about 15lb I hadnít bothered to weigh or photograph this fish, as the weather was so horrendous, shame really as it was in absolute pristine condition, perfect in every way.
We had travelled into the local town and purchased fresh supplies a couple of times, the food and drink were very reasonably priced, large fresh steak, mushrooms, tinned potatoes, fresh crusty bread washed down with beer or wine, we were eating very well, trouble was the carp were not feeding half as well as Perry and I or Peter, Dave had now caught knocking on 20 carp, nothing over 25lb but most of the carp caught were over the 20lb mark.
One day to go, the rain stopped and the sun came out, at least it should dry some of the gear, Perry had still to land a carp, the French lads had bent the rules a little by wading out with a rod and casting whilst in the water, Perry and I thought we would wade out with one rod each and launch it to the far side of the channel, I loaded stringers onto the hook with a total of 10 baits on, waded maybe 80-90yds launched the lot 60-70yds more, then made my way back carefully to the bank.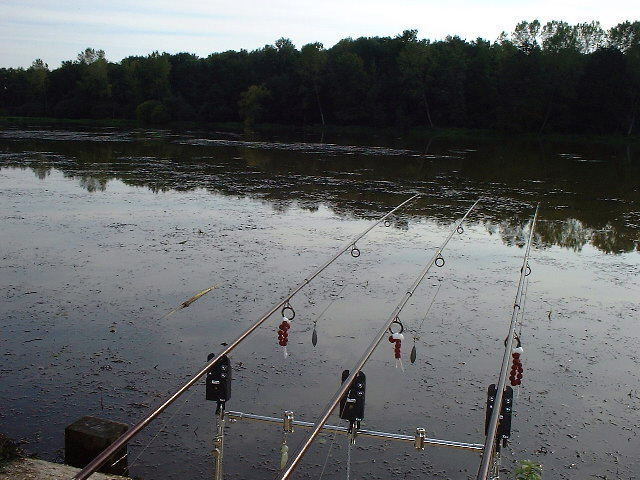 Bloody hell where has all the line gone? This would be interesting if a carp picks up my hookbait. Perry did the same, we were ready for the last night, our other rods were again set as before, surely a carp will respond tonight, it had warmed up during the day, the wind had eased off, perhaps the carp would move further down the lake than Daveís baits.
10pm beeeeeeeeeep my Ďlong chuckí rod starts to scream, wind down and strike, keep winding, it must be there somewhere, strike again and the rod takes on its fighting curve. Perry was by my side asking if he should get his Ďchestiesí on, he is a diamond, it doesnít matter if he hasnít caught, he will still help on every catch by others when needed, I said to wait a minute as the fish was way out in open water, I managed to play the fish on a long line for the first couple of minutes gaining line and keeping the fish in front, I thought at that distance it might kite to the left or right into the weed.
Although the fish put up a good account of itself at no time did it get stuck in the weed, Perry was ready with the net, first time and in she goes, another mirror 23lb 10oz.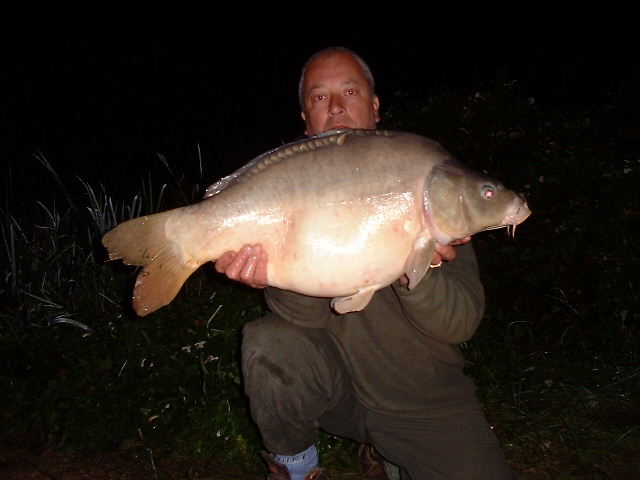 After the pictures and returning the fish the rod was cast to the edge of a weedbed with just a pop up hookbait, you never know.
Perry didnít get another take, all week for just one take and then to lose it in the weed, thatís the way it goes sometimes. I had 5 runs, landed 3, 23lb and 23lb 10oz mirrors a common of about 15lb lost one in the weed and the one that got off when I was up the bank. Pete had 4, 2 twenties and 2 doubles. Dave had 24 carp, I think 18 over 20lb the largest being 25lb.
All week during the day and night carp were Ďcrashing outí at the far end of the lake, there are no swims in this area, the anglers fishing the adjacent swims are allowed to stalk this area (wading) but only one at a time with one rod and natural baits.
There isnít much you can do in a situation like that, apart from sit it out and try as hard as you can with finding likely spots in your swim, if the carp visit your area you know you will catch, if they donít, you wonít, itís as easy as that.
Next timeÖÖ..there will always be next time.