Morgane
This story start's very differently to the others so far, 2003 was a year of change for my wife and I, our eldest son had been living in Spain for some years, running his own business, our middle son had now settled well in the States and our youngest was away at uni in the UK. We had made various trips both to the US and to Spain and to cut a long story short we decided to `up sticks´ and move to Spain, we would still have a base in the UK (staying with my wife's sister) when ever we wanted to and she and her husband would come to us when ever they fancied a bit of warmer weather.
The move day was set for May but our new property wasn't to be ready until September, we had access to the house but the builders still had some jobs to finish. We had planned to stay with our son as he had plenty of room, the lads had booked a fishing trip in June, how was I going to swing this one? No problem said the missus you go fishing for the week I'll be fine.
I was up and running, the team this time was, Perry as usual, Steve as usual, Steve's son Mathew and Pete King, this was a new one for Pete, he hadn't fished in France before nor had Steve's son, so we had decided on somewhere they would `get a few fish´ Morgane seemed to fit the bill, fairly small lake with plenty of carp. This water is let by Simon Horton again but this time for exclusive use which we thought would be a good idea as we had the sole use of the lodge which included accommodation if we wanted to use it.
The lads had the transport sorted and ferry, I was to drive up from Spain `on me jack´
as it were. After a 1200 km drive I arrived red eyed early Saturday afternoon, I had left early Friday evening but stayed overnight in a cheap services hotel, it seemed better than try and drive the whole journey Saturday. I pulled into the parking area to see the lads were already bloody fishing!!! We've left you this spot half way round the lake Perry said, between himself and Pete who was fishing the furthest swim from the lodge, Steve and Matt fished from the lodge, nice and comfy for young Matt, (so Steve said)!!
First night I had a nice Carp just under 30 if I remember right, no one else had a fish!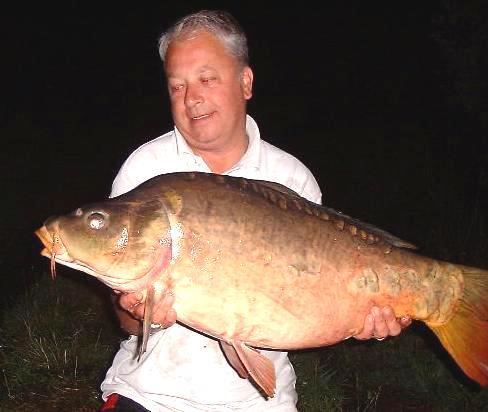 But after that everyone caught plenty of Carp, no monsters but some nice fish, we had some good fun trying the lake behind the lodge during the day with light tackle for some small Carp and to see if we saw any of the Cats move but we only caught the small carp which were in absolute mint condition.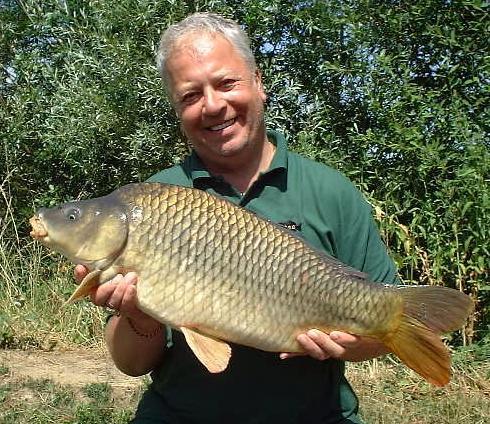 We did have one incident whilst at Morgane, the water level was a bit low for the first part of the week, when a helper of Simon came to visit he asked if we wanted some water to be pumped from the other lake, we said yes as it would freshen the water up a bit, the weather had been fairly still and warm. He turned the pump on saying he would return the next day! Only trouble was our lake filled up a bit too quick and created a nice little stream between my bivvy and the lake!! It was only a problem of course when I had a run and dived from the bivvy straight into my own new personal stream, I nearly crxpped myself thinking I had fallen into the lake!!
We all caught plenty of carp during the week but I decided to sleep in the lodge for the last night, due to the long drive back to Spain on the Saturday, the rest of the lad's fished and still caught carp right up to packing up early Saturday morning.
If you fancy giving Morgane a try, Simon Horton is the man to contact, I don't think it's the type of lake to catch massive carp but if you want a nice small water with plenty of runs then this one fills the bill, good luck.