November 2009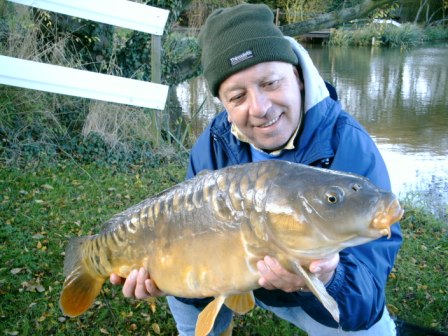 As some of you know I spend a lot of my time in Spain, so it's nice to get the rods out when back in the UK. A mate and I were to spend a couple of nights on Farlows, a water I hadn't fished for many years, but that fell through for this week, as he had work commitments that could not be changed. The weather although windy would be reasonably mild for the next few days, according to the forecast that is.

So my old mate Perry suggested two days on his syndicate lake, we couldn't do the night as guests can only fish days, so I stayed round his place for the night between the two day sessions. We had plenty of bait which consisted of Mainline Pulse and some Pro Active Pineapple. I had bought a couple of bags of pellet and Perry also had some different types of pellet that we mixed together, for two one day sessions we should have ample.

The lake is only small but very well kept, there are plenty of swims on the lake and to be honest a few too many for my liking, the idea being you can only fish from a designated swim not just from anywhere. There are a few islands which help to split the lake into areas, all well kept with a few trees overhanging the water where some of the previous summers weed beds and lily beds could still be seen. It holds a good stock of young carp, not massive by any means but maybe one or two fish that could make 30lbs at the right time of year. It's not just a carp water as it holds tench, bream and roach also, again not to any great size, but it is a water for the future.
We arrived at about 9am had a look round just to see if anything was showing, no one was fishing, so we had the pick of any swim we wanted. Some of the areas between the islands looked good so did the first couple of swims as you enter, we decided on the swims near the entrance, Perry had fished these swims with his brother a few times and caught a few nice carp from margin spots and an area off the end of an island and between two islands, to be honest there seemed to be lots of spots that could produce a take. We started off using different rigs, the rules state inline leads only or running rigs, this suited me fine, Perry was using inlines as most of the members use on this lake. I decided on very light running rigs size 8 barbless hooks with a short hair on a braid hooklength of only about 4 or 5'' this I was hoping would be just a little different to what normally gets used.

Well what did we catch?
To be honest I couldn't go wrong, the first day fishing from about 9.30am till 7.00pm I caught 10 carp and two tench, Perry caught 3 carp and 3 tench, the wind was blowing a hooli all day but we were tucked up behind some trees in a little hut that they have at the lakeside (one of about three huts) the carp ranged from about 7/8lb to about 16lb. I was using light running leads with a short braid hook length, bait was mainline pro active pineapple or pulse, used with mixed small pellets in PVA bags. The carp seemed to be held up in a channel between two islands and that's where my bait was going each cast. Perry was using an inline set up and longer mono hooklink, which just didn't seem to be doing the job!

The second day and our swim had been taken when we arrived about 9am, so we moved along the bank planning to fish to the end of one of the islands and to two patches of lillies where we had seen carp showing the previous evening when we were leaving, we dropped a little bit of bait in there anyway.
Again we were into fish, this time Perry had changed his rigs to the same as mine, but the tench had moved in, my first four runs produced all tench, Perry had a couple of tench but also a couple of carp to double 14mm baits, so it was time for me to double up with the hookbait, no more tench just a few pulls then it gets left alone.
Anyway we finished day two with me catching 11 carp and 4 tench, Perry had 12 carp and 2 tench. But this time I had two twenties, 20lb 8oz and 25lb both commons, which both came as darkness fell, what the fishing could be like during the night at this venue, I can only guess, pretty hectic me thinks!!

Although a lot of the fish were small some of them had cracking scale patterns and all were in good condition, it really is a cracking little water and somewhere that I am sure will develop into somewhere special.

Below are a few of the fish, click on the thumbnails and they open to full size pictures.
Sorry about the quality of the bigger ones as the battery went on the camera so Perry had to use his phone.