L'Etourneau Re-Visited (at last)

It was the summer of 2012 and I hadn't heard much from the lads on where we were to fish in France this year, they do seem to leave it to me to decide each year! Darrell had mentioned l'etourneau again, we had spoken many times about going back after our first visit back in 2007 and the

had a few entries on how well the fish had grown. I had no worries about a return trip there as we had all done very well the time before, it was just that we had always decided on somewhere different every year. Darrell phoned Sarah who takes the bookings for the lake and asked if there were any spaces for the week commencing 27th October, it seemed we were in luck, as nobody was booked on for that week, Darrell made a provisional booking and said he would confirm the numbers etc after speaking to me. I contacted Perry and Steve who both said they would want to come, they had to book the time off work but would let me know in a few days. Perry would also contact Pete and Vince to see if they were 'in on the trip' Darrell's mate 'the hammer' wanted to come again after coming with us last year, although he only caught the one fish whilst with us in 2011 he had enjoyed the trip and wanted to get back to a French lake to catch a few 'bigguns'.
This is where it all went pear shaped, when Perry and Steve tried to book the week off they were told too many people already had booked the same week (due to the Olympic games, the school half term holiday had been put back a week) and that it would be impossible for them to take that week, the problem was me, Darrell and the hammer had sent our deposits to secure the lake!!! Anyway to cut a long story short it was to be just the three of us to fish this year, Steve later booked Flores Carp Experience for himself Perry and Pete, Pete's mate Greg went along too they visited the lake the last week of September, but unfortunately didn't do too well apart from Pete who had seven or eight fish and Greg who caught a 52lb'er.
Time was approaching our trip, Darrell and the hammer were to fly from Copenhagen to Toulouse, I would be driving from here in Spain and pick them up mid morning to continue our journey to the lake, just outside Limoges. Darrell and the hammer would use rods that I would take, along with there own reels, buzzers and the rest of the tackle us carp anglers find essential. Danny would provide bivvies and bedchairs for them and I would use my own. Danny can provide bait supplied by Loir Baits, a company based in France, so Darrell and the hammer would purchase 20kg of the 'superfruit' flavour between them as this had produced good results at the lake. I had some bait still in the freezer, Mainlines 'New Grange' and 'Cell' I also had some bait that would be used as feed along with some pellet and I had bought 25kg of 'pigeon mix' to boil up when at the lake. The hammer was making some of his special popups, which turned out to be very good indeed, (thanks hammer) So we were covered pretty well with the important stuff!!
October 26th arrived and it was time to start our respective journeys to l'etourneau, Darrell and the hammer caught there plane and had to change planes at Brussells, I loaded up the 'Kangoo' with all the gear ready for an early morning departure on Saturday. The first hiccup was the second flight from Brussells to Toulouse was delayed by two hours, not to worry, it just meant they wouldn't have to wait as long in the airport hotel for me next morning. The next hiccup was a bit more serious, they finally arrived at Toulouse but there checked in luggage had stayed at Brussells!!! The guy in the airport said it would come on the next flight, that arrived at 11am on the Saturday. My drive from Spain to Toulouse airport was fine and I arrived at the hotel ready to continue our journey, the problem was the flight that was carrying the luggage was also delayed by two hours. So it would be 2pm at least before we could continue to Limoges.
We arrived at the lake at nearly 6pm, tired and really just wanting to catch up on some sleep after such a long journey, luckily Dan had erected some bivvies during the day at various points around the lake, so after a quick meal we decided on where to fish just for the first night, the idea being we would make a final decision on swims come the following morning after breakfast. I went into 'big snags' and Darrell and the hammer shared a gazebo on the dam wall.
44lb 8oz
It all kicked off at 1 o'clock in the morning when my left hand rod signalled a screaming run as the Delkim springs to life, after a good strong battle with an obvious big fish this beauty of a mirror slips into the waiting landing net, weighing in at 44lb 8oz what a fantastic start to our weeks fishing!! At 3am I had another run with the fish managing to slip the hook after a few minutes at about 20yds out, this fish did feel bigger than the first, but they always do when you lose them ;-) Just before breakfast time and the right hand rod screamed off, this seemed another big fish that really didn't want to come and say hello. It took a full five minutes before Darrell managed to land another fantastic looking mirror, this time weighing 48lb.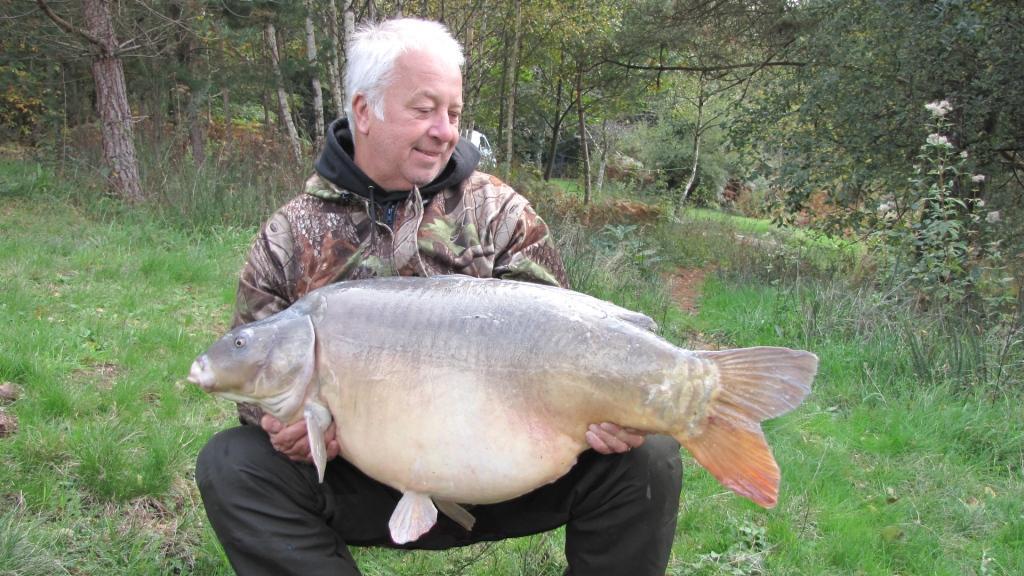 48lb
Darrell also had a nice fish before breakfast, a 31lb 8oz mirror, this fish had come from the left hand side of the dam wall about an hour before my second fish.
After breakfast it was decided to fish three swims in the same area, Darrell went into the 'Orchard' I stayed put (who wouldn't) in the 'big snags' and the hammer came to my right in 'little snags'.
Rather than going through every capture I will now just bring things up to 3pm on Tuesday, I had caught six fish the weights being 44lb 8oz, 48lb, 41lb 8oz, 40lb, 43lb, 25lb. Darrell was still on the one fish, but the hammer had really sprung into life with three fish weighing 37lb, 47lb and a whopping 53lb!!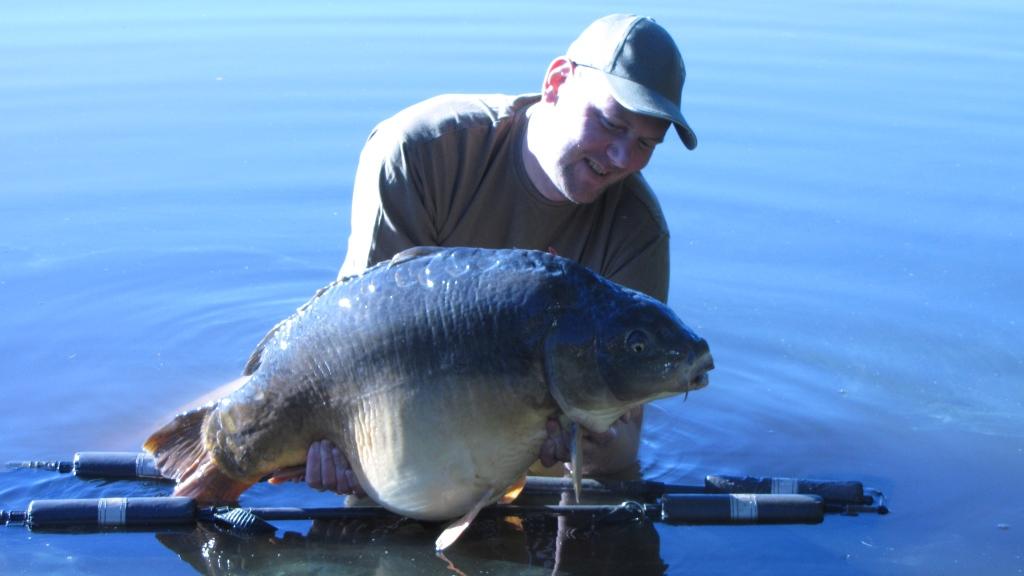 The Hammer with his new PB at 53lb